Sony's software sales are up in its first quarter earnings, indicating its first-party strategy is paying off.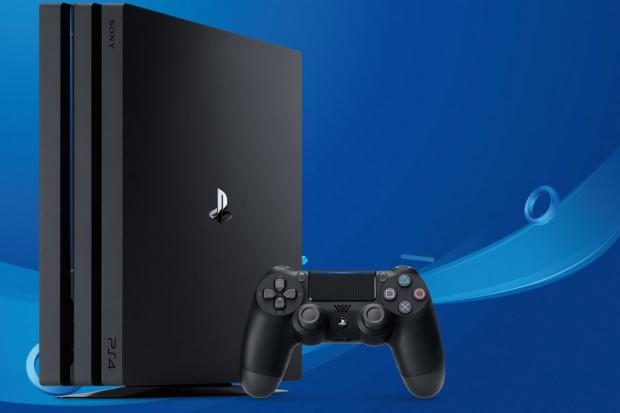 Like other platform holders such as Nintendo and Microsoft, Sony typically makes most of its gaming revenue from software sales on its online storefront. The Japanese tech giant's gaming segment is its strongest asset and software is a boon for quarterly earnings: in Q1 Sony saw a strong 70% year-over-year earnings spike from both digital and game sales, raising sales to about ¥268 billion.
What's interesting is just how big a piece software is to Sony's gaming pie. Software sales (both PS Store and physical) made about 57% of total segment sales revenue in Fiscal Q1'18, with total game sales sitting at 40.6 million units. These numbers were driven by both strong first-party games like God of War as well as third-party titles.
Games and Network Services segment sales revenue for Fiscal Q1'18
Software sales: ~ ¥268 billion (+70% YoY), about 57% of total sales rev.
Hardware sales: ~ ¥98 billion (+0.61% YoY), about 21% of total sales rev.
Network services: ~ ¥75 billion (+21% YoY), about 16% of total sales rev.
Other (peripheral sales like PSVR, DualShock, PS Camera, etc): ~ ¥29 billion (-10% YoY), about 6.2% of total sales rev.
Total: ¥ 472 billion
Digital made about 43% of total game sales, or about 17.45 million. The bulk of software sales in the three-month period ending June 30 were made up from physical games.
On the hardware side, the PlayStation 4 family of consoles just broke the 80 million mark. Sony moved 3.2 million units in Fiscal Q1'18, pushing the PS4's total global cumulative sell-in number to 82.2 million.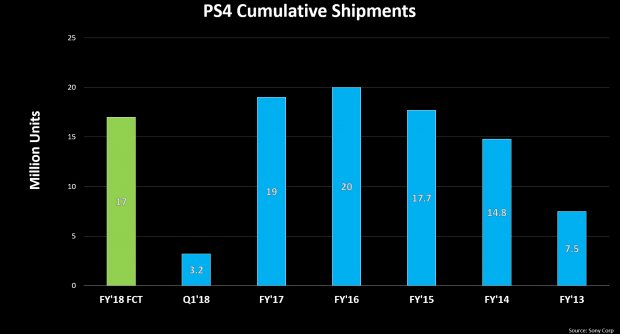 One interesting tidbit is that the Games and Network Services' "Other" category, which includes peripherals like PSVR, only made about ¥29 billion or roughly 6.2% of total sales revenues for the quarter.
As a result of strong software and hardware sales, the company has upwardly revised its total FY18 forecast for the segment:
FY2018 Forecast (change from April forecast)
Sales: 280 bln yen (15%) upward revision
(+) Higher-than-expected PS4 software sales including sales through the
network
(+) Impact of foreign exchange rates
(+) Increase in PS4 hardware unit sales
Operating Income: 60 bln yen upward revision
(+) Increase in sales