God of War made $131 million digitally at launch
Sony's first-party God of War pulls in big via digital downloads.

Published Wed, Aug 1 2018 4:31 PM CDT
|
Updated Tue, Nov 3 2020 11:51 AM CST
God of War made quite an earnings splash when it released in April, according to findings from analyst firm SuperData.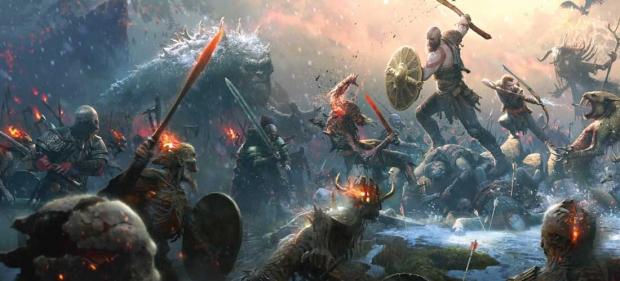 More and more publishers and games-makers are pushing into digital storefronts to sell their games. Not only is direct download cheaper for companies, but platform-holders like Sony, Microsoft and Nintendo get to keep 100% of every first-party game sold on their wholly-owned marketplaces. Even though physical games still make up the industry-wide bulk of sales, more and more gamers are embracing digital. Sony's latest God of War game is a case in point.
In a single month, Sony Santa Monica's massively acclaimed story-driven Norse adventure raked in $131 million from digital sales on the PlayStation Network. These launch month figures eclipse major games like Uncharted 4, and as SuperData reminds us, shows a strong hunger for strong narrative games.
"The surging emphasis of rich storytelling in games is a key reason why story-driven titles are earning big. During their respective launch months, The Witcher 3 earned $69M, Uncharted 4 made $56M, and God of War raked in $131M in total digital revenue," SuperData analyst Courtney Sanders wrote in a recent report.
"These results show that there is a significant demand for narrative experiences among gamers."
Sony's latest quarterly earnings also highlight God of War's success.
Key execs affirmed that God of War was overshooting internal sales forecasts, and it's quite likely that the game's performance has solidified Sony's ardent focus on quality first-party games. The company revised its fiscal year forecast for game segment sales as a result of God of War's strong momentum.
"We upwardly revised PS4 software sales to reflect the fact that our first-party title God of War and other third-party titles are significantly exceeding expectations, and the titles we announced at E3 are receiving strong feedback," Sony Corp. Chief Financial Officer Hiroki Totoki said in the earnings report.
As far as figures, Sony reveals that about 57% of total game segment earnings in Fiscal Q1'18 were from software sales.
Digital made about 43% of total game unit sales, or about 17.45 million. The bulk of software sales in the three-month period ending June 30 were made up from physical games.
Games and Network Services segment sales revenue for Fiscal Q1'18
Software sales: ~ ¥268 billion (+70% YoY), about 57% of total sales rev.
Hardware sales: ~ ¥98 billion (+0.61% YoY), about 21% of total sales rev.
Network services: ~ ¥75 billion (+21% YoY), about 16% of total sales rev.
Other (peripheral sales like PSVR, DualShock, PS Camera, etc): ~ ¥29 billion (-10% YoY), about 6.2% of total sales rev.
Total: ¥472 billion
Related Tags