Overwatch's new hero 'Wrecking Ball' is now available
Blizzard unleashes Wrecking Ball, the 28th hero that joins the ranks of Overwatch.

Published Wed, Jul 25 2018 12:40 AM CDT
|
Updated Tue, Nov 3 2020 11:51 AM CST
Blizzard has just pushed out the latest update to Overwatch, which unleashes the game's latest character that will really change the entire game: Wrecking Ball.
Wrecking Ball is the 28th hero in the world of Overwatch, with the character being a hamster in a spherical mech that can throw himself around the map and create havok wherever he goes. Wrecking Ball is larger than D.Va, the other mech-based character in Overwatch, but unlike D.Va you can't play out of the mech that Wrecking Ball is played in.
Hammond is the name of the hamster inside of Wrecking Ball, a character that Blizzard explains escaped from Horizon Lunar Colony and landed in my backyard: the Australian Outback. Hammond landed Down Under, assembled his huge mech, and became Wrecking Ball.
Wrecking Ball is limited to the PTR for now, and will be available to play in the next season.
Wrecking Ball has a bunch of abilities that include:
Quad Cannons: Wrecking Ball fires machine guns

Adaptive Shield: Grants Wrecking Ball a number of temporary shields based on the number of enemies nearby

Roll: Wrecking Ball transforms into a sphere with increased speed

Grappling Claw: While in Roll mode, Wrecking Ball can launch a short grappling hook to attach to surfaces, swing around, clear gaps, and move upwards. Using this ability allows Wrecking Ball to gain momentum, dealing damage and knocking back enemies upon impact

Piledriver: Wrecking Ball slams down from the air, pulling enemies towards the center of impact and dealing damage

Minefield (Ultimate): Wrecking Ball litters the ground around him with damage-dealing proximity mines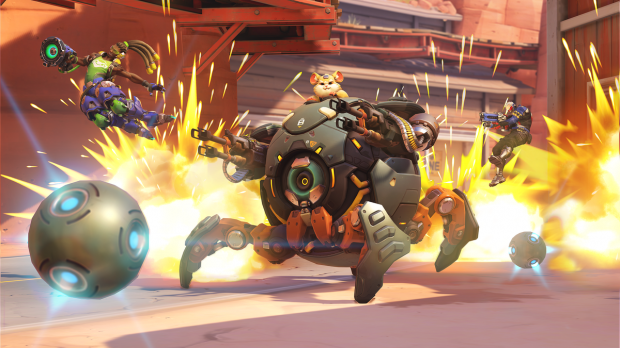 Related Tags