If there's a CPU that I'm excited for this year, it would have to be AMD's impending megatasking crusher, the Ryzen Threadripper 2990X and its monstrous 32C/64T of CPU power.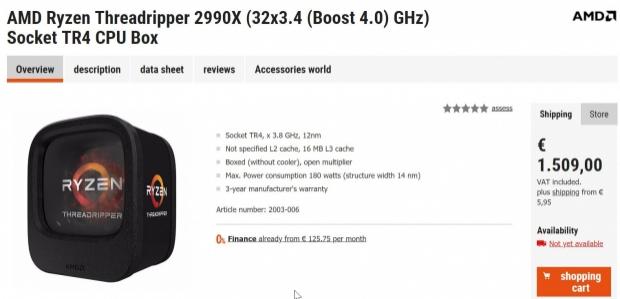 But what about the price? AMD seemed very coy during Computex 2018 in public and behind closed doors about the price of the new Ryzen Threadripper 2990X, but weren't shy from saying it would be more expensive than the current Ryzen Threadripper 1950X. Now there's a European retailer that has listed it early for 1509 EUR, which works out to around $1750 USD.
This is most likely a placeholder price, and I expect it to be more expensive than that - closer to, or over $2000. Hell, AMD could charge $3000 for the Ryzen Threadripper 2990X and it would still be an amazing price. Intel doesn't have anything close to it apart from the Xeon Platinum 8180 Processor which is a 28C/56T part that costs over $10,000.
Also, forget throwing that into your older-gen motherboard and it working, which the Threadripper 2990X will do just that - they will work in current-gen X299 motherboards after a new BIOS flash.