Sony has filed a new patent that could use blockchain technology to better secure games sold on the PlayStation Store.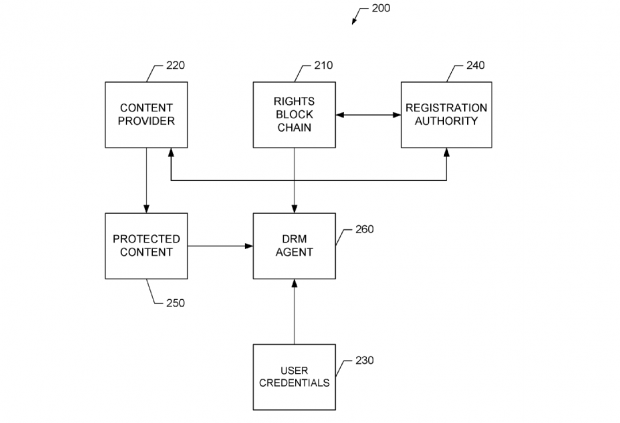 Blockchain is a unique avenue that can be used for a number of different applications, and even game publishers like Ubisoft and EA are experimenting with the tech. Interestingly enough Sony's latest patent aims at using the versatility of blockchain to safeguard its own games--and potentially those sold on its digital online network.
As is customary for patents, the document is quite long and meticulous, covering lots of iterations, methods, and permutations of use. The main focus "relates to digital rights management (DRM), and more specifically, to implementing the DRM using blockchains," according to the patent.
Essentially Sony wants to use blockchain to verify content usage rights potentially with decryption and encryption. Also remember this is a patent so it doesn't mean Sony will implement any--or all--of the methods.
"For interoperability, many current DRM solutions typically require a rights locker or other common storage that is managed by a vendor or ground of vendors. However, these convential solutions may not be very reliable and may rely on one unique point of failure. If the rights locker provider or system goes out of business or otherwise fails, the user loses all the acquired content."
Here's how it could work: when you fire up a game your specific rights to a DRM mainframe, which then verifies the "blockchain key" and decrypts the encrypted content/game, thusly granting you access.
"When the user wants to access the content data, the user system provides the content data and the rights blockchain to a DRM computer system.

The DRM system verifies the rights blockchain and confirms that the access is within the usage rights granted within the corresponding block in the rights blockchain. Once verified and confirmed, the DRM system decrypts or facilitates decrypting the encrypted content data and the user system can access the decrypted content."
"A method for performing digital rights management using a rights blockchain storing rights of a user, the method comprising: receiving a protected content including a content identifier, a scrambled essence, and an encrypted control word; receiving the rights blockchain and credentials of the user; searching the rights blockchain for a first block that contains the content identifier of the protected content; decrypting the encrypted control words when a signature and usage rights in the first block are determined to be valid; and descrambling the scrambled essence using the decrypted control word."
It'll be interesting to see how Sony could use this tech for its rich storefront, whether it be for games, music or movies. The PlayStation Network is a huge boon for the Japanese tech giant and represents a sizable portion of its yearly earnings, so it'd behoove the company to protect its assets as much as possible.