Vive Pro bundle priced at $1099
HTC decides to make a discounted bundle option for first-off Vive Pro buyers.

Published Tue, Apr 3 2018 12:32 PM CDT
|
Updated Tue, Nov 3 2020 11:52 AM CST
HTC has bowed to tons of feedback and will offer an Vive Pro bundle that includes sensors and controllers for $1099.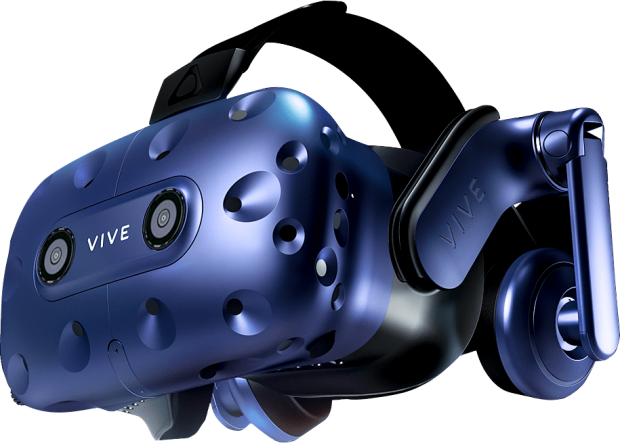 In a recent blog post, Vive General Manager Dan O'Brien confirmed the Vive Pro was essentially meant to be an upgrade for existing Vive owners rather than an entry-level option for new buyers, and that's why the company initially offered the $799 headset-only SKU.
Following a big hubbub over the $800 headset's pricing without the extra peripherals needed to actually make it work, the company will sell a Vive Pro Starter Kit for $1099. For comparison's sake the original HTC Vive launched in 2016 for $799 but included two controllers and lighthouse sensors for room-scale VR. The main selling point of the Vive Pro is its upgraded 1440 x 1600 resolution alongside built-in audio, the latter of which is missing with the original headset.
"After reading your feedback, we've realized we created some confusion that we want to address today. First, we introduced Vive Pro as an HMD-only upgrade because it represented the quickest path to market for the new headset. Since Vive Pro works with both SteamVR 1.0 and 2.0 tracking, we believed an HMD-only upgrade was the right option for the most demanding VR user, as well as VR arcades and enterprises that already use Vive," O'Brien said in the post.
"But what we didn't outline was a clear path for everyone else. We have also seen feedback related to existing accessories prices for 1.0 base stations and controllers. So today we're announcing the Vive Pro Starter Kit available on Vive.com starting April 5. This bundle pairs the Vive Pro HMD and two Vive 1.0 controllers and two 1.0 base stations for $1099 (USD, regional prices vary)."
The Vive Pro bundle will also include a $100 voucher for SteamVR games. Considering VR games are pretty expensive at about $30 a pop this is a welcome addition. Oh, and you'll also get a 3 month subscription of VivePort which allows you to pick a free game every month from a huge pool of virtual reality games.
The $1099 Vive Pro Starter Kit will be available on April 5.
Related Tags