Far Cry 5 runs at native 4K on Xbox One X
Ubisoft manages to hit native 4K in Far Cry 5 using Microsoft's new high-end console.

Published Fri, Mar 30 2018 6:18 PM CDT
|
Updated Tue, Nov 3 2020 11:52 AM CST
According to Digital Foundry's latest findings, Ubisoft taps the Xbox One X's boosted horsepower to run Far Cry 5 in native 4K resolution.
Usually we see Microsoft's first-party studios hitting native 4K resolution and crazy performance targets on the Xbox One X, and rightly so: after all they were directly involved in the system's testing and have the closest line to the console's engineers. But apparently Ubisoft has made a pretty substantial dev milestone with Far Cry 5 by hitting native 4K res on the Xbox One X thanks to the Dunia Engine's new upgraded prowess.
"After numerous pixel counts we've determined that Far Cry 5 delivers a full native 3840x2160 presentation on the Xbox One X," Digital Foundry's John Linneman said in the analysis video.
"The additional clarity offered by the higher resolution allows players to see objects in the distance more clearly, which has benefits both in terms of presentation and gameplay. In fact when you take into consideration the top-notch temporal anti-aliasing solution in use here, Far Cry 5 might just stand as one of the finest examples of great image quality on the Xbox One X."
The Xbox One X was designed specifically to synergize its hardware with the needs and demands of games, and Microsoft has given devs a wide net of potential to tap the console's power. Devs can target 4K resolution with dynamic scaling to hit specific FPS thresholds, or run games at 1080p 60FPS for HDTV owners--and even put emphasis on lighting, environmental, and other in-game effects.
Far Cry 5 is likely just the first of many new games that will use the Xbox One X's hardware to its limit, and we're betting Red Dead Redemption 2 will do the same--as well as Microsoft's upcoming fleet of first-party games such as Crackdown 3.
Xbox One X specs
SoC: Highly customized 360mm² AMD System-on-Chip built on 16nm FinFET
GPU: Polaris-derived GPU with 40 Compute Units at 1172MHz, 6TFLOPs of Compute Performance
CPU: Custom x86 "Jaguar Evolved" 8-core CPU at 2.3GHz, 4MB L2 cache
Memory: 12GB GDDR5 memory with 326GB/s bandwidth (12x 6.8GHz modules on a 384-bit bus)
Storage: 1TB 2.5-inch HDD
Media: 4K UHD Blu-ray player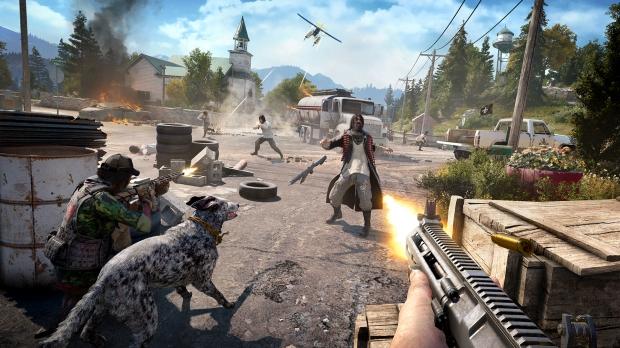 Related Tags