Microsoft will continue pushing engagement on Xbox LIVE
Microsoft CEO Satya Nadella affirms the company's engagement strategies won't end any time soon.

Published Tue, Feb 27 2018 2:04 PM CST
|
Updated Tue, Nov 3 2020 11:52 AM CST
Microsoft, like most other gaming companies in the industry, are all-in on their respective engagement strategies...and Redmond isn't about to quit a good thing.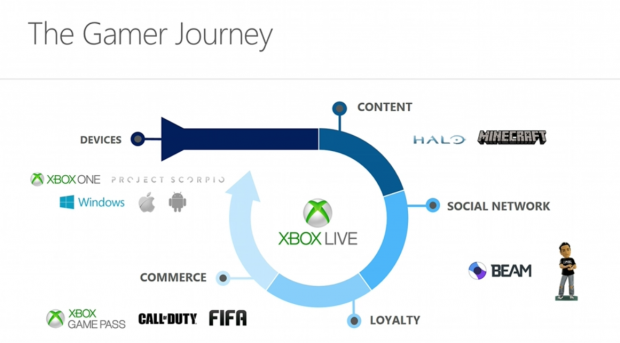 Engagement has been a huge boon for the gaming market. When properly monetized, engagement can rake in billions of dollars a year (look at Activision, EA, Ubisoft, Sony and even Microsoft), and the Xbox-owners at Microsoft have done a tremendous job not only creating a cyclic engagement wheelhouse that continues churning out cash via advertisements, microtransactions, and storefront revenues, but also unifying two major gaming platforms via Xbox LIVE. According to company CEO Satya Nadella, that approach isn't going to change any time soon--something that's been made readily apparent with its ambitious Game Pass subscription.
"We're very happy about the core gaming asset that we have, and that asset got built with the loved brand of Xbox, as well as PC gaming," Mr. Nadella said during the Morgan Stanley Telecom Conference. "One of the things that most people had not recognized is that we are the owners of both of those. And so, therefore, now that we even have Xbox and Xbox Live in particular across these two has really helped us grow engagement on Xbox Live and we'll continue to do so."
The CEO continues by highlighting Play Anywhere, and how it's bridged both PC and console gaming by letting consumers play their games across both platforms and pick up right where they left off. This unification strategy is the core framework of what Xbox now is: a marriage between the Xbox One family of consoles and Windows 10 PCs
"We now have a play-anywhere game subscription, which I think is the beginning of what is going to be a transition, much like what I described with Microsoft 365, is a transition in gaming where the console is going to be super important, the PC is going to be super important, but ultimately, it's about people and their ability to game anywhere."
"And that's where we're going."
Read Also: Why Xbox LIVE is the center of Xbox, not consoles
The Xbox Game Pass subscription plan is possibly one of Microsoft's biggest moves in recent memory. The $10 a month subscription not only includes a growing catalog of released Xbox One and older Xbox 360 games available for download, but will include all of the company's new first-party games, too. This means gamers can simply keep paying the subscription to access newly released games like Sea of Thieves and Crackdown 3 (when it's out), along with upcoming titles like 343 Industries' new Halo game and the next Gears of War.
This Netflix-style approach will very likely be a huge win for Microsoft in the long run, which is what they're planning for. Microsoft's gaming war strategy is one of attrition, not first or quick strikes.
"Whether it is with our subscription offerings with Game Pass, whether it's with Mixer, which again, is growing very rapidly in terms of just streaming, or e-sports franchises around our first-party games," Mr. Nadella continued.
"So I think we have many, many levers there. But, fundamentally, it comes from that heritage of having been in the gaming business for multiple decades at this point, and built up that capability in a world where now we have the ability to take that and have it serve as a much broader marketplace than ever before."
Related Tags