Qualcomm has just unveiled the next leap in wireless earbud technology with their new TrueWireless Stereo and TrueWireless Stereo Plus products, packed with the latest in Bluetooth tech.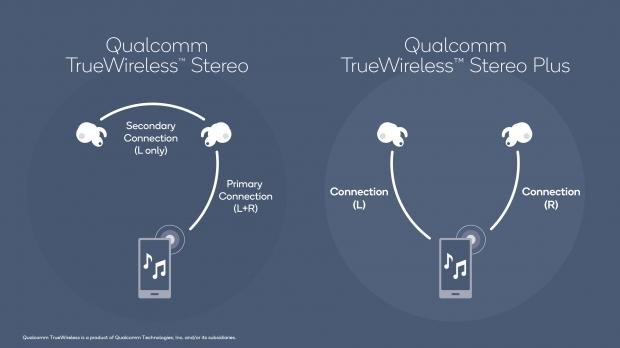 The new TrueWireless Stereo products are completely wireless, with the two earbuds connecting to each other over Bluetooth, versus other wireless earbuds that are connected to each other with a cable but wireless to your smartphone.
Qualcomm's TrueWireless Stereo will connect to your phone and blast L+R audio to the first earbud, and then use Bluetooth to transfer the second channel of sound. TrueWireless Stereo Plus on the other hand blasts the signal in half to each individual earbud.
The company is using their latest low-power Bluetooth SoC which will improve the battery life of wireless earbuds based on Qualcomm's TrueWireless Stereo technology.