In a bid to accelerate game sales with its traditional rewards program, Nintendo is finally making good use of all those gold coins.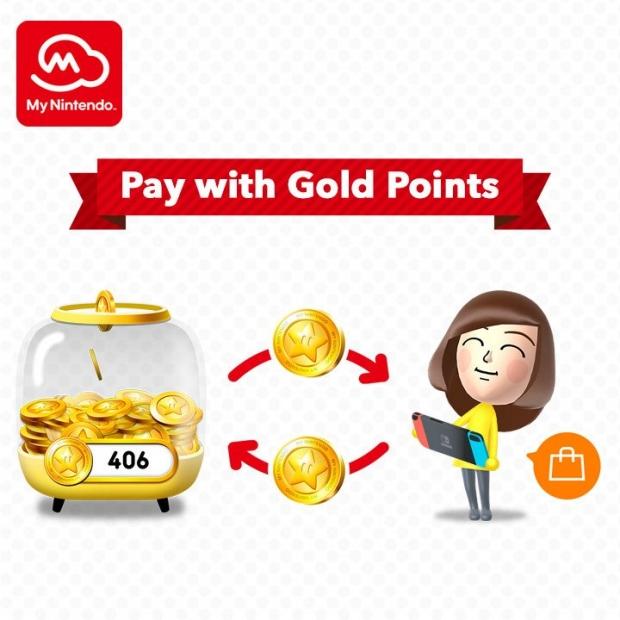 Nintendo will soon allow gamers to exchange My Nintendo Gold Points to buy Switch games on the eShop in Japan, North America, and Europe, the company revealed today. Gold Points are earned for Nintendo Switch, 3DS, and some Wii U games purchased physically or on the digital eShop (with some restrictions), so the more games you buy, the more coins you earn to potentially spend on new games. I wouldn't be surprised of Nintendo gave just a little more coins for digital purchases to push gamers towards the eShop--after all, Nintendo doesn't have to pay for cartridges, game boxes, and covers when you buy digitally.
"Starting in early March, you'll be able to spend any Gold Points you've accumulated in My Nintendo when purchasing Nintendo Switch software from Nintendo eShop on your device, or even via this website! You can pay for the remaining balance with Nintendo eShop funds, or any other payment method available in Nintendo eShop," reads an announcement post.
Gold Points will stay in your My Nintendo Account balance for a full year, so don't forget to use them. Exact exchange rates have yet to be revealed, but we'll find out more info next month.
Meanwhile the anticipated Switch Online service, which sees Nintendo charging gamers a low fee to play online and for access to select classic retro games, has been delayed to September 2018.
Here's more info on how to earn Gold Points:
Gold Points
Digital Software:
Gold Points can be earned by purchasing downloadable games (with an MSRP of $5.00 or higher) from the official Nintendo website, Nintendo eShop, or by redeeming a retailer-issued download code.

All digital titles for Nintendo Switch, Wii U, and Nintendo 3DS that are available through Nintendo eShop qualify for Gold Points.

When purchasing a downloadable game for Wii U or Nintendo 3DS, you must link your Nintendo Network ID to your Nintendo Account before making your purchase to earn Gold Points for the game.

Digital purchases made on or after 3/31/16 can qualify for Gold Points. Purchases made before 3/31/16 are not eligible.
Physical Software:
Gold Points can be earned by registering physical game cards for Nintendo Switch. (Physical software for other systems does not qualify for Gold Points.)

Gold Points for physical games must be claimed within one year of the game's original release date.

A game card can only be redeemed one time. If it has already been redeemed by one Nintendo Account, it cannot be redeemed again with a different one.

For help redeeming My Nintendo points for a physical game, click here.

Physical software for Nintendo 3DS and Wii U, downloadable content, passes, and themes do not qualify for Gold Points.