Games industry may make $170 billion in 2018, firm predicts
Gaming is set to grow even more throughout 2022, analyst firm DigiCapital predicts.

Published Jan 22, 2018 11:13 AM CST
|
Updated Tue, Nov 3 2020 11:52 AM CST
The global video games industry could pull in a staggering $170 billion this year, according to a new report released by analyst firm DigiCapital.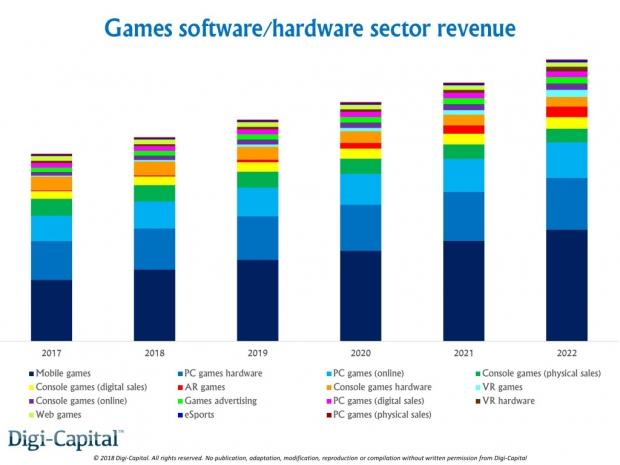 In DigiCapital's latest forecast report, the firm foresees the games industry continuing to grow at a rapid pace up until 2022, which should converge with a new generation of games consoles and a litany of fresh new games across the full hardware spectrum (not to mention new iterations on the service game model and other lucrative business strategies). The firm says the global video games market, which includes hardware, software, peripherals and components across the entire world, could reach as high as $170 billion in 2018 - a big jump from the $108.9 billion that Newzoo predicted would be earned in 2017.
Mobile gaming will take the biggest part of the earnings pie with up to $60 billion earned in 2018, representing about 35% of the maximum prediction for the year, and could reach a huge $90-$95 billion by the end of 2022. Given how steadily mobile gaming has risen in the wake of free-to-play microtransaction games across the globe (especially in Asia where they're particularly popular and profitable) this certainly makes sense.
Related Tags