L.A. Noire themed Xbox One, PS4, and more being given away
Rockstar gets festive, gives away custom L.A. Noire consoles and PC hardware.

Published Mon, Dec 4 2017 8:52 PM CST
|
Updated Tue, Nov 3 2020 11:53 AM CST
Rockstar Games are getting in the holiday spirit by offering up some pretty damn amazing one-of-a-kind gifts, with L.A. Noire themed consoles with the Xbox One X, PS4 Pro, and Nintendo Switch.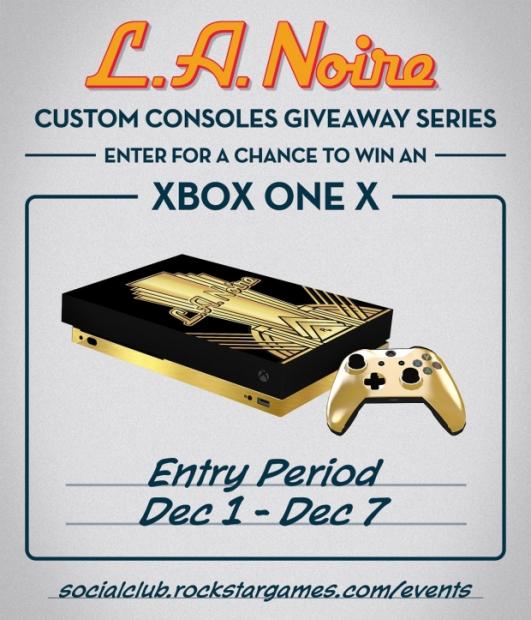 PC gamers aren't left out, as there's a... PSU.
The developer is celebrating the re-release of L.A. Noire again, as it's available in VR and now on the Nintendo Switch. On the more powerful Xbox One X and PS4 Pro consoles, Rockstar has added in some technical enhancements including improved lighting and clouds, as well as higher resolution textures.
The Xbox One X and PS4 Pro versions of L.A. Noire also run at 4K resolutions, but the PC side of things gives gamers unlimited adjustment to graphics (as always) as well as VR goodness.
As for the giveaway, it all begins with the custom Xbox ONe X consolet hat needs to be entered before December 7. Even though the developer of the game, Bondi, was an Australian-based developer, gamers Down Under can't enter.
You'll need to live in Austria, Belgium, Canada (excluding Quebec), Finland, Germany, India, Netherlands, Puerto Rico, South Korea, Spain, Switzerland, Ukraine, the United Kingdom, or the United States.
Related Tags