Google helps pedophiles on YouTube with auto fill content
Go to YouTube right now and type in 'How To Have' and see what comes up, then re-share this story.

Published Sun, Nov 26 2017 8:12 PM CST
|
Updated Tue, Nov 3 2020 11:53 AM CST
I was just floating around on Twitter just now and stumbled across something Mike Cernovich re-tweeted, where he tagged @TeamYouTube on Twitter asking "Why does "How to have..." auto fill into pedophile content? Multiple people reported this to me."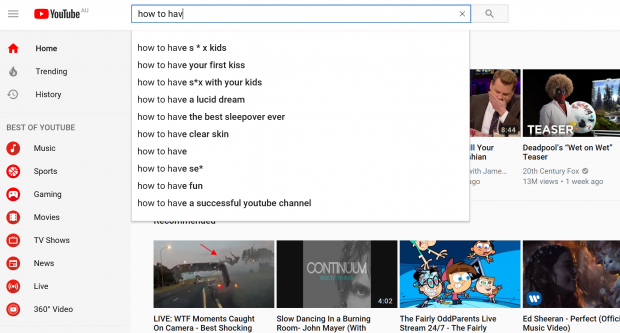 I didn't believe it, thinking it was some crazy "alt-right conspiracy theory" but nope, it's real. I went to YouTube and typed on "How To Have" and then it auto filled it to a few different options with YouTube providing "how to have s*x with your kids" (what the actual f**k) and then "how to have s * x" with kids (which is equally as f**ked up).
YouTube will have to have an incredibly good answer for this, because it's beyond not normal. Furthermore, the auto fill options seem to be aimed at the younger audience searching YouTube with "how to have your first kiss" and "how to have good handwriting", but then it's mixed up with pedophile-friendly searches that will direct young kids to sick content. I couldn't bear clicking them, so I have no idea what comes up in the searches. Ugh.
YouTube - where is your answer to this???
Related Tags