Elon Musk receives approval for tunnel under LA
The Boring Company receives approval to begin making its massive tunnel under LA.

Published Fri, Nov 24 2017 6:40 AM CST
|
Updated Tue, Nov 3 2020 11:53 AM CST
Elon Musk, or the real life Tony Stark, has taken the first step into solving the standstill traffic problem that LA is known for. Musk has begun the process with his firm 'The Boring Company' by filing a permit to start digging within city limits.
Keeping the momentum going forward Musk has already acquired a verbal approval and has also posted a photo from the first stage of the project near his office in Hawthorne, in southwestern Los Angeles County near LAX. Musk hopes the route of tunnel will stretch from the entirety of the "whole 405" from LAX to Interstate 101 in "a year or so."
In April, The Boring Company released a video showing a car being lowered into the tunnel from a platform in the city streets. Users of the tunnel will be able to take "express" trips through the main tunnel with "no intermediate stopping", side tunnels will also be connected to the main tunnel for entry and exit.
The website states: "Therefore, unlike trains, the skate's average speed is very close to its maximum speed. And with no intermediate stopping, there is no practical upper limit to the number of stations along the alignment, and the stations can be built as small as a single parking space. Each skate can carry either a single automobile or 8-16 passengers (mass transit) based on configuration."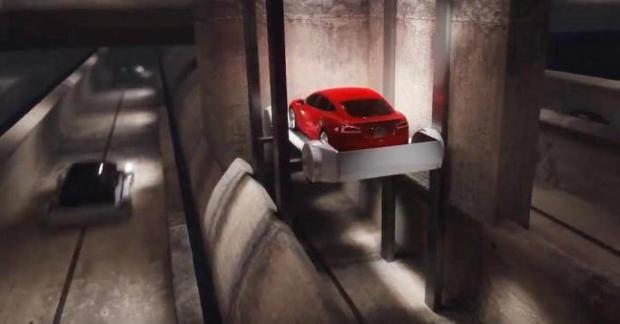 Related Tags