NVIDIA still the leader of GPU market, even with Vega here
GPU shipment numbers are in, and we see Vega hasn't made a dent in NVIDIA, with GeForce sales through the roof.

Published Tue, Nov 21 2017 8:29 PM CST
|
Updated Tue, Nov 3 2020 11:53 AM CST
AMD used up an entire year of marketing hype with Radeon RX Vega, and still I don't know anyone who has purchased one - NVIDIA on the other hand has probably barely kept up with production to meet the demand of the GeForce GTX 10 series.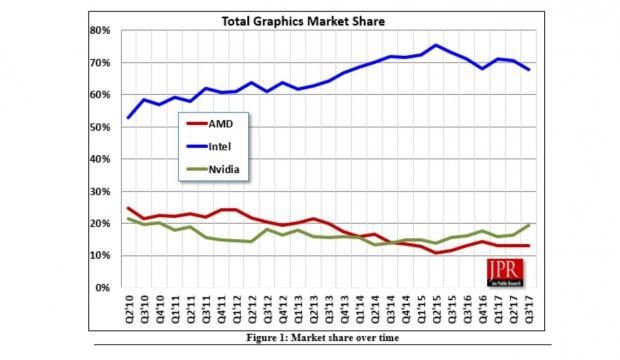 GPU shipment numbers are now in from JPR, showing that GPU shipments as a whole increased 9.3% compared to the previous quarter, with a huge drive of sales coming in from cryptocurrency mining. GPU shipments from both NVIDIA and AMD are at an all-time high because of cryptocurrency mining, but PC gamers are also scooping up the latest graphics cards for games like Battlegrounds, Destiny 2, Wolfenstein II, Call of Duty: WWII, and many other games that have been released in the last few months.
NVIDIA has experienced a huge 34.7% increase in desktop discrete GPU shipments, and a nice 22.4% increase in notebook GPU shipments for Q3 2017. AMD on the other hand has noticed a much smaller increase of 7.6%, even with Radeon dominance in cryptomining. Over the last three months since, even with the introduction of AMD's next-gen Radeon RX Vega graphics cards, AMD noticed a 0.2% decrease in GPU market share over the quarter.
Related Tags