Battlegrounds climbing and vaulting test servers coming soon
It's about time... that's all I will say.

Published Sat, Oct 28 2017 11:09 PM CDT
|
Updated Tue, Nov 3 2020 11:53 AM CST
Battlegrounds is set to receive one of its biggest changes since it was launched into Steam Early Access in March, where it has since sold 17 million copies and broken Steam concurrent gamer records.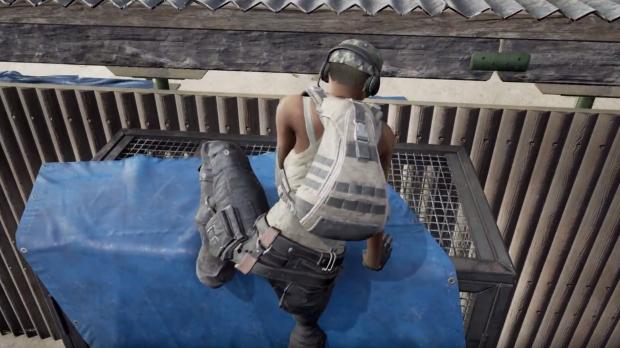 The new update will provide vaulting and climbing to the game, which is needed in a big way. Bluehole announced that there will be test servers going live in the next few days with the new climbing and vaulting features, but there are some huge hours that need to be pumped into testing before the servers can go live.
Bluehole explained: "Crossing and scaling obstacles may intermittently create many new tactical options available to the players. The standard jump feature can be used in standard situations, but there are many areas where it does not suffice. After all, PUBG features a play area of considerable proportions. In addition, objects located on the map differ greatly in shape and size. Such complexity can cause many problems for the players who need to rely on fast and effective means of jumping over (or on top of) boxes, containers, fences etc. For that reason we have decided to implement dynamic vaulting and climbing mechanics".
The developer continued: "This feature enables in-game characters to quickly scale obstacles in front of them. Although we initially planned to allow crossing over structures which are up to 1 meter high, we have eventually decided to extend the functionality of the feature by increasing the limit to about 2.3 meters. Almost any static object that meets the dimension criteria can be scaled. Additionally, passing through openings in structures (such as windows) is possible as long as they are wide and tall enough. You may scale almost any static object which is short enough. Objects which are chest level high can be scaled with a weapon in hand. Taller structures that require pulling up to vault need to be performed with both hands free of any items (they will be holstered automatically when animation is played). Running towards the obstacle will generate momentum that will ensure faster motion. Performing the action from stationary position is also possible but the animation played will be slower, leaving players vulnerable for a longer period of time".
Related Tags