Assassin's Creed: Origins monetized via time-saver packs
Ubisoft will monetized Assassin's Creed: Origins with optional time-saving content in the game's e-store, not randomized loot boxes.

Published Mon, Oct 9 2017 2:02 PM CDT
|
Updated Tue, Nov 3 2020 11:53 AM CST
Assassin's Creed: Origins game director Ashraf Ismail affirms that the game's loot boxes won't be monetized and can be purchased with in-game currency, not premium currency, and that the game will have options to buy time saving packs of content from the in-game e-store.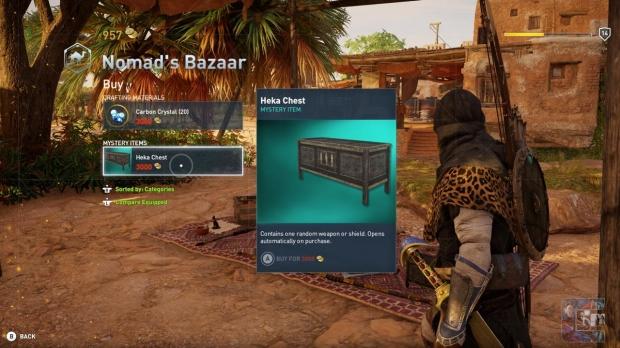 Months ago I predicted that Assassin's Creed: Origins would be monetized--thanks to its RNG approach to gear, I thought randomized loot boxes would show up. Now it appears that the game won't be monetized in such a way--however it will have options for gamers to spend real money on in-game items. Ashraf Ismail, game director for the latest entry on ancient Egypt, told Eurogamer that the in-game Nomad's Bazaar, run by the NPC Heda, isn't a form of loot box microtransactions such as Overwatch or Shadow of War. The boxes sold by Heda in the Nomad's Bazaar are bought with in-game currency, and you can sell items to him as well for profit. Plus Heda will send you on a daily quest for the chance to earn riches and rewards.
"The reason we did that was because we saw, even two years ago, people playing the game in different ways," Ismail told Eurogamer. "There are people who like to go into a military location, infiltrate them, steal the loot and equipment and hopefully find some unique or legendary gear."
"Then there was a smaller set of people who would focus almost entirely on the economy, buying and selling stuff to gain as much money as they can. And we felt like, okay, that's a valid way to play the game - it's a part of the RPG [aspect], so we'll let them play the economy. So, it's one way to be able to purchase or get some of the unique items in the game."
Essentially the Nomad's Bazaar is a way for gamers to buy rare crafting materials needed to upgrade gear, and a means of possibly receiving rare loot from random boxes. Heda is essentially Gheed from Diablo II, allowing gamers to gamble their hard-earned cash for surprises.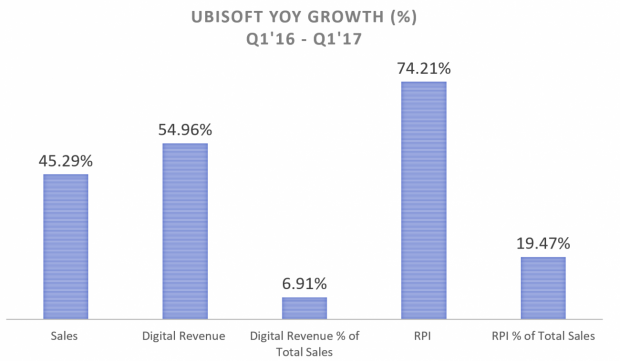 Q1 earnings of Ubisoft's PRI, which includes digital game add-ons, in-game purchases/microtransactions, and DLC packs, has grown signficantly year-over-year.
Origins will be monetized, however
But at the same time, Assassin's Creed: Origins is still an Ubisoft game, and that means monetization.
Ubisoft has made a huge transformation into a digital-based company with multiple huge service games that continually make money via monetization and microtransaction strategies. In fact, Ubisoft affirms that all of its games will have some sort of live service integration, which typically means monetization options to make more money over time.
Since the game doesn't have an online multiplayer component, that typically means Ubisoft will monetize items and other content in an optional way, essentially letting gamers spend money to get items quicker than they would by grinding and playing the game.
We're not sure if the in-game e-store will have a premium currency or not, but it's possible. The e-store will feature convenience items that accelerate acquisition of potentially rare and powerful gear, giving you an edge if you're willing to pay the costs, but Mr. Ismail affirms that all the items sold in the e-shop can be acquired in-game without spending a dime.
"You can get that from playing in the game. Everything that's in the e-store you can get from playing the game. It's just an accelerated way of playing the game," the dev told Eurogamer.
The biggest question I have now is whether or not Ubisoft will sell in-game gold packs for real money.
Assassin's Creed: Origins comes out October 27, 2017 on PS4, Xbox One and PC, and I'm super excited to try the game out.
Related Tags