Assassin's Creed: Origins has dynamic res scaling on PC
Ubisoft uses dynamic resolution rendering on AC: Origins' PC port to ensure lower-end builds can play the game.

Published Thu, Oct 5 2017 6:30 PM CDT
|
Updated Tue, Nov 3 2020 11:53 AM CST
Shortly after announcing the PC spec requirements for its massive new Assassin's Creed: Origins game, Ubisoft confirmed that the ancient Egypt adventure can run at an uncapped FPS on PC--provided you have the hardware to do so.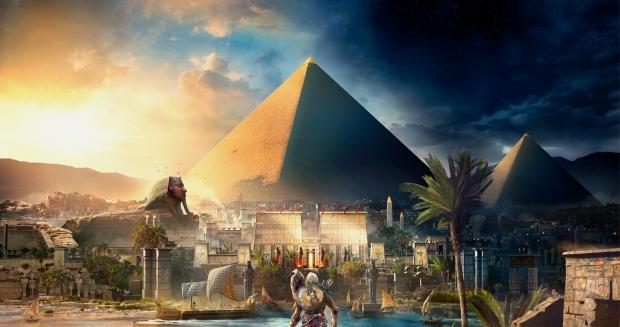 Assassin's Creed: Origins is the biggest game in the franchise, and Ubisoft spent quite a bit of time plumbing the depths of ancient Egyptian history to recreate it before our eyes. Barring any major glitches or hiccups, PC should be the definitive platform to experience Origins in terms of frame rates...albeit the game does use dynamic resolution rendering on all platforms, including PC. Ubisoft says they were able to decrease the PC spec requirements because of this method, which typically attempts to hit an FPS target at the cost of lower resolution. This makes the game more accessible to gamers with lower-end builds.
The publisher also says that PC gamers can run Assassin's Creed: Origins at uncapped FPS (if their rig is good enough), and that the open world game will have built-in tools to help gauge performance and efficacy of their builds, including a native benchmarking tool and a program that measures and analyzes in-game performance.
"The built-in Performance Benchmark will help players validate their tweaked settings, while the in-game Performance Analysis will allow them to profile how their hardware is performing using constant monitoring and tracking of their performance by our engine," said game producer Jose Araiza. "Furthermore, an in-game resolution multiplier will give players flexibility to tell the engine to render the game at higher or lower resolutions as they see fit."
We're not sure how this will affect the PC performance of the game, but I for one am excited at the prospect of jumping into an ancient Egyptian world. I'm hoping Ubisoft is able to hit their stride with the Assassin's Creed series on PC...but I have a feeling the game may be restrained a bit so that as many gamers can play as possible.
This brings up an interesting little point vs counterpoint argument: should AAA devs hold their games back and use scaling and development sorcery to open their games up to lower-end PC builds at the cost of superior visual quality, or just embrace the higher-end segment and squeeze out lower tier builds so that the game looks and feels great for a smaller audience of gamers?
Argument: Is it okay when devs restrain AAA games on PC to make them more accessible to low-end builds? Or is high-end most important?

— Scary Derry🤡 (@DeekeTweak) October 5, 2017
Any major publisher would likely pick the former--it's very important that as many gamers can play your game as possible, regardless of the trade offs (look at consoles), but at the same time, it's also important that you deliver a product that ultimately shines on today's top-tier PC hardware--the NVIDIA GeForce GTX 1080 Ti's and AMD Radeon RX Vega's of our current gen.
In any case, it'll be interesting to see what happens. I personally have faith in the project--but then again I love the idea of the game itself, and haven't seen how it runs on lower- or higher-end PCs.
Assassin's Creed: Origins drops on October 27, 2017 for PC, Xbox One and PS4.
Related Tags