Obsidian Entertainment's Scott Everts designed the layout and built the worlds for every original Fallout game, including Fallout: New Vegas. So when he says New Vegas would've been a very different game if it hadn't been restricted by PlayStation 3 and Xbox 360 hardware, we should believe him--and wonder what could've been.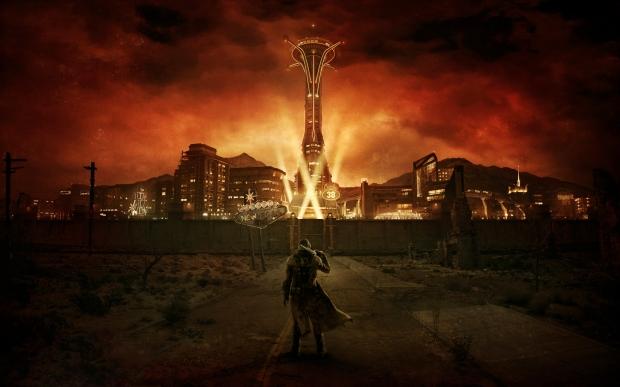 Fallout: New Vegas is a contentious point for both Bethesda Game Studios and Obsidian Entertainment: the former feels spurned and somewhat jealous that fans regard New Vegas, a game that was made in just 18 months, as the best Fallout game, while the latter at Obsidian likely feel spurned that they didn't get their bonus and promised royalties because the game's Metacritic score was 1 point off (New Vegas scored an 84 on Xbox 360 and PC). While Bethesda typically won't talk about New Vegas, Obsidian will, and world-builder Scott Everts told PCGamesN some interesting things about the game being affected by console limitations.
"New Vegas would have been a lot different if it was PC only," Mr. Everts asserted. "We had a lot of plans early on. Like, 'Here's where the water is stored, here's where the farms are, here's where the government is centralized'. We had it all planned out - it wasn't just a bunch of random stuff." The master world-maker said that content was cut from the game due to these limitations--content is always cut from any game, but moreso when hardware restrictions come into play--and the team had to simplify the content that did make the cut so the engine wasn't overwhelmed.
Read Also: Sources: Fallout creator Tim Cain leading new Obsidian project, to be "Obsidian's answer to Fallout"
"We could have gone further with [what was included]. We had to simplify, so we had less stuff that would bog down the game engine. [If New Vegas as PC only] we would have had fewer performance issues. We did break it up a bit, but from my point of view it was a performance-related game and we had to fix things."
Obsidian has openly said it would love to make another Fallout game, but sources familiar with the matter tell TweakTown that a sequel to Fallout: New Vegas won't happen; instead the studio intends to make its "own answer to Fallout" with original Fallout creator Tim Cain at the helm.
Obsidian Entertainment is currently using the Fig fundraising platform to raise funds for its new game, a sequel to the beloved Pillars of Eternity cRPG.