Turn10 Studios confirms that Forza 7 will clock in at a huge 95GB on Xbox One, but that huge install size is split between the game disc and a 50GB download.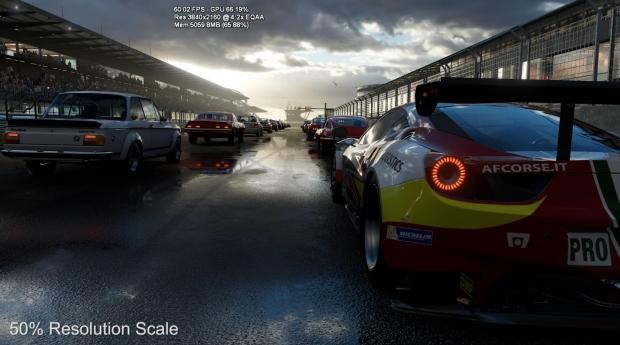 Microsoft's first-party games are often juggernaut-sized leviathans that quickly eat up your internal data--Halo 5, Gears of War, Forza, you name it--and Turn10's racing opus Forza 7 is no different. Xbox One owners can look forward to almost 100GB of data being taken up by the game: the racer takes up 95GB of space, but the Blu-ray disc only holds 45GB and users will have to download the remaining 50GB on their own time. Luckily, that 50GB update is purely optional (for game disc owners anyway) and isn't required to play the game, but you'll need to download it if you want the definitive Forza 7 experience. Xbox One X owners can expect yet another big update for the 4K assets and performance tweaks.
"Ever since we announced Forza 7, we've called this our biggest game, and the numbers bear it out: more than 700 cars at launch, 32 of the world's greatest tracks (our largest lineup ever), a massive career in the Forza Driver's Cup, and of course a huge list of ever-changing multiplayer and competitive modes that will keep players busy no matter their skill level or driving preferences," Turn10 said on its official blog.
"This is the largest game we've ever released in terms of sheer footprint size as well. The Xbox One game will be approximately 95 GB at launch. Just about 45 GB of that contained on the Blu-ray disc. The remainder will be available to download for free on September 29."
"Naturally, the game can be played from the disc alone. However, if you want to experience the true depth and breadth of content in Forza Motorsport 7, you'll want to take the additional update.
Although Forza 7 will play on all Xbox One consoles, the title was made specifically to leverage the full might of Microsoft's new $499 Xbox One X. We've covered how Forza 7 runs at native 4K at 60FPS on the box with 70% GPU usage, and how Turn10 has worked serious magic to ensure the game looks and plays great on the new console, but there's nothing really to be done about the storage requirements for native 4K assets.
Even with Microsoft's new Intelligent Delivery system that's said to "shrink" game install sizes by giving developers a sweeping net of options that can reduce file sizes, downloads and installs, Turn10 says Xbox One X owners can expect "another large update" for Forza 7 when the system launches on November 7. The dev doesn't say how big this Xbox One X update will be, however.
"Forza Motorsport 7 will receive another large update on November 7, alongside the release of the Xbox One X. This large update will contain the assets that enable Forza Motorsport 7 to showcase the power of the Xbox One X at native 4K and solid 60 FPS with ultra-high resolution content and will be a free update for those who play Forza 7 on Xbox One X," Turn10 said on the same update.
While these sizes might be daunting especially for digital gamers, remember that the Xbox One family of systems is fully compatible with external hard drives up to 8TB in capacity.