Samsung QLED 4K TVs are the official home of Xbox One X
Microsoft teams up with Samsung to showcase the Xbox One X's 4K gaming fidelity on ultra-premium QLED HDR UHDTV displays.

Published Tue, Sep 5 2017 7:39 AM CDT
|
Updated Tue, Nov 3 2020 11:54 AM CST
Samsung's new high-end flagship QLED 4K HDR UHDTV displays are now the official partner for Microsoft's new premium $499 Xbox One X console, offering enthusiast console gamers the optimum visual experience.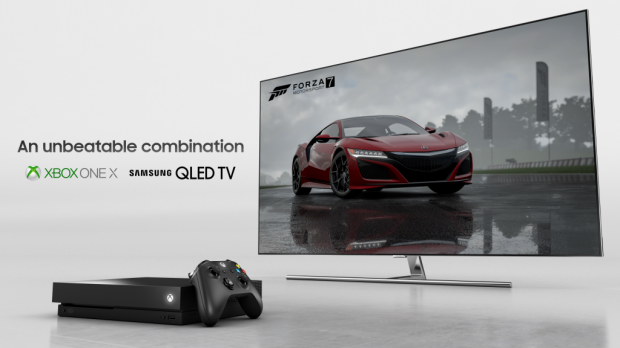 Xbox division head Phil Spencer has said that its new Xbox One X console, which is capable of rendering in native 4K resolution with HDR support, isn't for everyone: the box is aimed at the high-end segment of gamers who "want the very best console experience available," and the company's recent partnership with Samsung underlines this focus. Samsung's new QLED lineup of 4K televisions leverage Quantum Dot technology for dazzling and vibrant visuals as well as 3-step image processing for low ~20ms input lag, and the sets even allow gamers to quickly switch to Game Mode with a simple voice command.
Don't forget that the Xbox One X also supports FreeSync and FreeSync 2 over the new incoming HDMI 2.1 standard, which will effectively offer variable refresh rates that potentially mimic the frame rate technology used in PC desktops. Armed with FreeSync and FreeSync 2, Xbox One X games may not only look amazing with new HDR optimizations, but also afford a much smoother gameplay experience that leverages the machine's tweaked GPU and CPU for improved frame rates and reduced screen tearing.
It's highly likely that Samsung will be among the first major tech giants to roll out FreeSync-enabled television sets, so this partnership should have long-lasting effects on the system's lifespan. The QLED line doesn't come cheap, however: the sets start at $2,799, or about 460% more than the Xbox One X's original retail cost.
The Xbox One X launches on November 7, 2017 for $499.
"The arrival of true 4K UHD gameplay on Xbox One X this Fall gives gamers the perfect reason to upgrade their television," said Eddie Combs, Vice President of Marketing for Samsung Electronics America. "If gamers are looking for a TV that delivers premium 4K HDR picture quality with industry leading design and smart functionality, then the QLED TV and Xbox One X are an unbeatable 4K gaming combination."
"Xbox One X will bring true 4K gaming to console players for the first time with 40 percent more power than any other console," said Mike Nichols, Corporate Vice President and Chief Marketing Officer, Xbox. "Samsung's QLED 4K TV is our favorite way to play Xbox One X, and we're thrilled to join forces with Samsung in the U.S. to deliver immersive 4K gaming experiences to our fans."
QLED TV

Samsung's QLED TV takes Quantum dot technology to the next level with advancements in light efficiency, stability and a wider color spectrum. The QLED TV can express accurate color and achieve 100 percent color volume - addition, the QLED TV's 4K HDR Elite features rich, deep black levels and bold contrast that displays hidden detail as it was meant to be seen.

For gamers, the QLED TV provides an unparalleled 4K HDR gaming experience. It leverages Quantum Dot technology to bring even the smallest graphical details to life in perfect color. And with 3-step image processing, the QLED TV features an exceptionally low input lag of less than 20 milliseconds to provide a seamless experience on even the most demanding multiplayer games. Meanwhile, a lifetime guarantee against burn-in means that gamers will never have to worry about potential display damage that could distract them from the next mission.

Samsung's Smart Hub has been expanded to offer an even more intuitive and unified experience, directly via the QLED TV. By simply connecting Xbox One X, the TV automatically recognizes the console and sets up the Samsung One Remote - which now supports more devices and offers voice control capabilities across more Smart TV features. Just by saying "Game Mode" into the One Remote, users will have immediately optimized their audio and video settings for gaming. Paired with the latest Smart View App - available on Android or iOS mobile devices - users will enjoy their very own personalized Smart Hub.

Additionally, Samsung introduced new design elements that can fit into any home - regardless of the interior aesthetics or setup. The all-new Invisible Connection cable allows placement of the console elsewhere, with a single connection to the TV. Consumers can now reclaim their living room space once occupied by set-top boxes, external streaming devices and video game consoles with a single optical cable that brings all devices together in a clean, orderly manner. Additionally, Samsung has also introduced the No Gap Wall-mount which brings the TV flush against the wall, closer than ever before.
Related Tags