PUBG beats League of Legends on Twitch
PlayerUnknown's Battlegrounds doesn't just have a massive playerbase--it enjoys a huge and dedicated spectatorship following too.

Published Sun, Sep 3 2017 6:38 PM CDT
|
Updated Tue, Nov 3 2020 11:54 AM CST
PlayerUnknown's Battlegrounds continues its titanic growth in the video games industry by ending League of Legends' viewing streak on Twitch.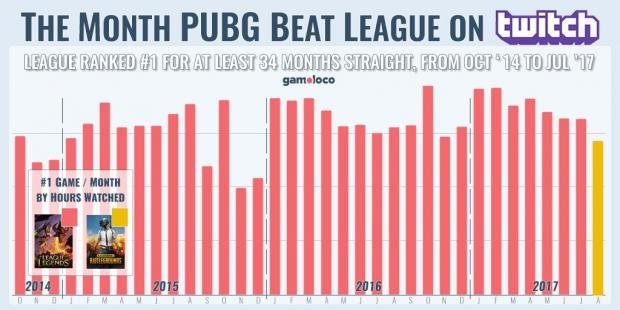 Gaming juggernaut League of Legends was the top-viewed game on Twitch from October 2016 to July 2017--that was, of course, until early access sensation PlayerUnknown's Battlegrounds broke its 34-month streak and dominated Twitch live-streaming viewership for the month of August.
"For the 1st time since we started monitoring Twitch data in 2014, League didn't rank #1 across a full month, dethroned as it was by PUBG," Twitch viewership monitoring company Gameloco reports.
This news is particularly interesting given that PUBG has secured an exclusive deal to host live streams on Facebook, the social media titan that enjoys 2 billion monthly active users. This shows that PlayerUnknown's Battlegrounds' Twitch viewership is just as active, and it'd be interesting to see how many users tune into the the weekly Facebook show.
Furthermore, PUBG is likely a boon for advertisement revenue given the sheer length of each game session. The game sees players battling each other across big maps in a last-man-standing archetype, and each match can last for quite some time. The longer users tune into Twitch, the more potential money is made via ads and other monetization such as donations.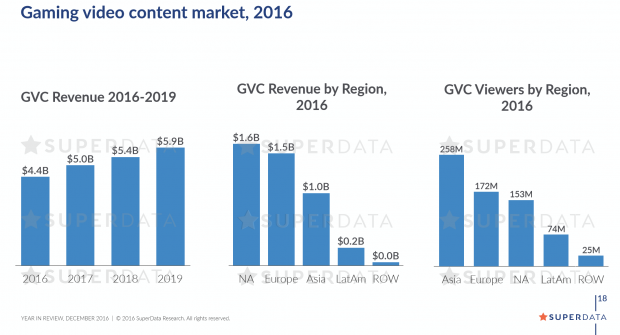 The GVC market--Gaming Video Content--is a massively lucrative industry segment that is set to grow in 2017 and beyond as more and more gamers tune into Twitch and YouTube game streaming. In 2016, GVC pulled in $4.4 billion in revenues and enjoyed 682 million users, analyst firm SuperData reports, with Twitch earning $1.9 billion and YouTube closer behind at $1.6 billion. Ad revenue makes the bulk of these earnings, the firm reports, with ads generating a substantial $2.4 billion, or 54% of total earnings for the year.
With its exclusive Facebook streaming deal and massive growth on Twitch, alongside its eSports events, PlayerUnknown's Battlegrounds has the foundation to become a permanent fixture in 2017's top games and de-throne titans like Overwatch, League of Legends, and Call of Duty.
The $29.99 last-man-standing shooter PlayerUnknown's Battlegrounds has snowballed into success, earning milestone after milestone on its path to a full release. We've chronicled PUBG's rise to fame with a number of articles, and recent milestones include more than 8 million copies sold worldwide on PC as well as PUBG becoming the number one Steam game in concurrent peak players--a prestigious title that once belonged to Valve's money-making DOTA 2.
I've also predicted that PUBG will be a bona-fide system seller for Microsoft's new 4K-ready Xbox One X console due to the system's launch exclusivity deal.
It'll be interesting to see if Bluehole can maintain PUBG's massive success when the game officially launches, and when the developer adds in cosmetic-based microtransactions to fuel future content updates.
Related Tags