Games market to crown at $104.6 billion in 2017
The global video games market will break $100 billion in 2017, analyst firm SuperData predicts.

Published Thu, Aug 3 2017 4:17 PM CDT
|
Updated Tue, Nov 3 2020 11:54 AM CST
The global interactive media market, which includes video games software, esports, streaming monetization, and virtual reality, is expected to peak at $104.6 billion in 2017, analyst firm SuperData predicts.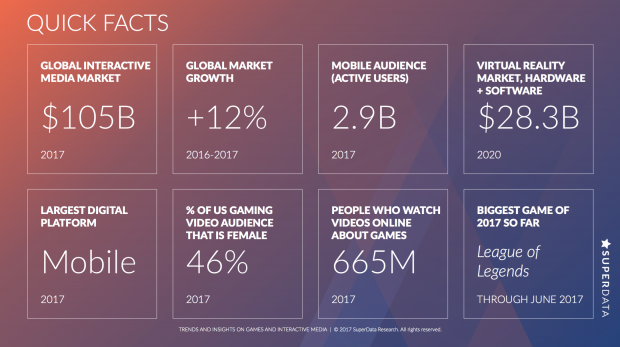 In its latest Trends and Insights on Games and Interactive Media report, analyst tracking firm SuperData forecasts the video games market to breach $100 billion in 2017. The report, which only includes digital media like PC, mobile, console and VR game software sales, microtransactions, and earnings from gaming video content such as Twitch, says that the global market revenues will grow by 12% year-over-year in 2017 to $104.6 billion. Contrarily, analyst firm Newzoo predicts the global games market will rake in $108.6 billion, up 7% year-over-year.
Mobile revenue is expected to jump by a mighty $6.7 billion in 2017, and 92.25% or $96.5 billion of total games industry revenues are from digital games, SuperData reports. Digital games are up 10.28% year-over-year, and are expected to make up 73% of revenues in 2020.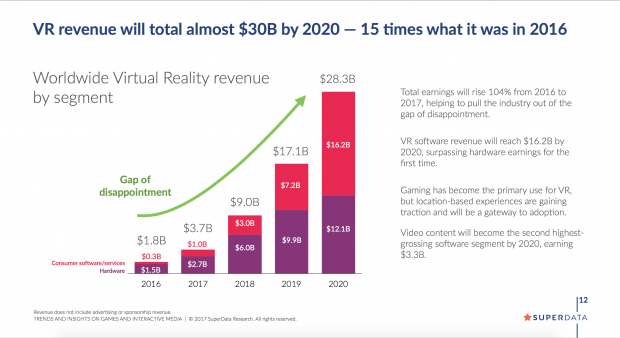 The Virtual reality (VR) market earnings are expected to rise by 104% in 2017 to $3.7 billion, with 72.97% of those earnings coming from VR hardware such as HMDs, and 27.03% coming from software. SuperData reports the VR market pulled in $1.8 billion in 2016. The VR market will grow by 664% in 2020, and is expected to pull in $28.3 billion.
The report also mentions how important microtransactions are to console revenues, decreeing that any publisher who ignores added content is missing out on the lucrative $8 billion dollar market.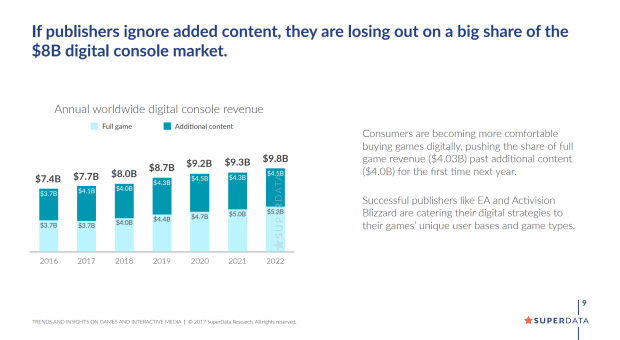 Add-on content--which includes DLC, add-ons, expansions, microtransactions and other in-game spending--will outpace console full game download revenue in 2017 by 10.81%, or $4 million. Digital console gaming add-ons are expected to make $4.1 billion in 2017, whereas full-game downloads are expected to pull in $3.7 billion, meaning the total digital global console gaming segment is to pull in $7.7 billion revenue in 2017.
Rocket League, with its cosmetic-only microtransactions, is cited as one of the best ways for publishers to tackle monetization. The report notes that Rocket League made over $1 million in add-on revenues with its annual Halloween and Christmas events.
Related Tags