The international games industry will hit an astronomical $108.9 billion in 2017, and continue to grow to $128.5 billion by 2020, market analyst firm Newzoo predicts.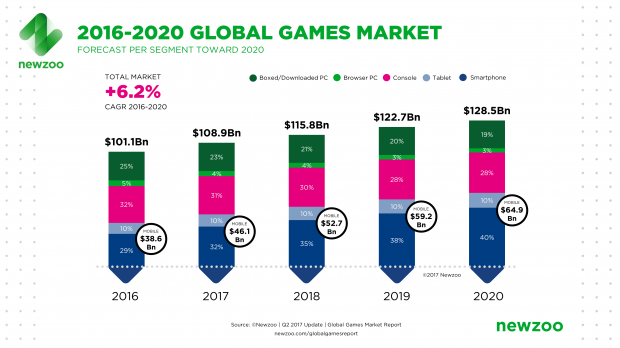 Newzoo's latest Global Games Market Report delivers some fascinating and mind-blowing predictions for the games industry, especially for mobile gaming. According to the report, 2.2 billion gamers are expected to a staggering $108.9 billion in games market revenues in 2017 alone, which represents a year-over-year increase of 7.8% (or $7.8 billion). The report also forecasts that digital will account for 87% of total revenues, or $94.4 billion, but remember that digital includes all facets of digital gaming--not just game sales: subscriptions and subscription-based services, microtransactions/DLC/add-ons, live services, freemium mobile games, full game downloads across all platforms (PSN, Xbox LIVE, Steam, GoG, etc), and other content.
The analyst firm says that mobile is by far the most lucrative segment in global gaming, and is projected to make up more than half of the games market by 2020. In 2017, mobile gaming (smartphone and tablets) is expected to hit $46.1 billion, or 42% of all revenues. This represents a 19.3% year-over-year increase. As mobile is digital-only, it's one of the major prime movers for the digital sector, and crosses over between full game downloads and in-game purchases.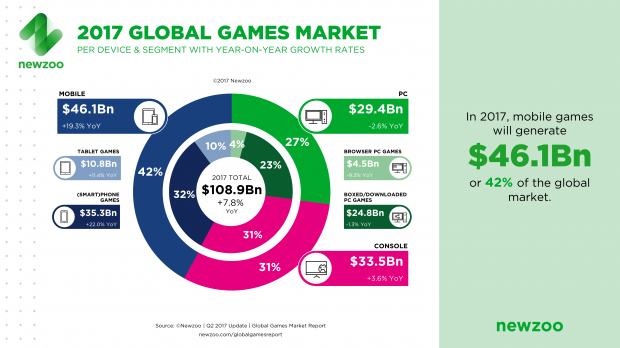 Console gaming follows behind mobile with 31% of total global games market revenues for 2017, representing $33.5 billion, an increase of 3.5% YoY. For many games publishers, such as Electronic Arts, Ubisoft, and Activision, the console platform is massively lucrative, but these publishers are also starting to penetrate the mobile market with big winners.
Interestingly enough, PC gaming is projected to stay close behind console gaming for 2017. Newzoo forecasts PC gaming will make up 27% of all 2017 game revenues or $29.4 billion, bolstered by the surprisingly strong performance of browser-based PC games.
Browser PC games which will account for 18% of total PC platform revenues with $4.5 billion, representing a 9.3% year over year increase.
Actual boxed and digital full-game PC titles will generate the bulk of the platform's revenues with $24.8 billion, which is actually down by 1.8% over last year.
It's worth noting that if PC browser games weren't included, the console market would eclipse the PC market by $13.2 billion, or 12.1% of the total projected market earnings for 2017.