Apple has recently posted third quarter earnings, showing consistent revenue growth in key areas such as iPhone sales and services revenue.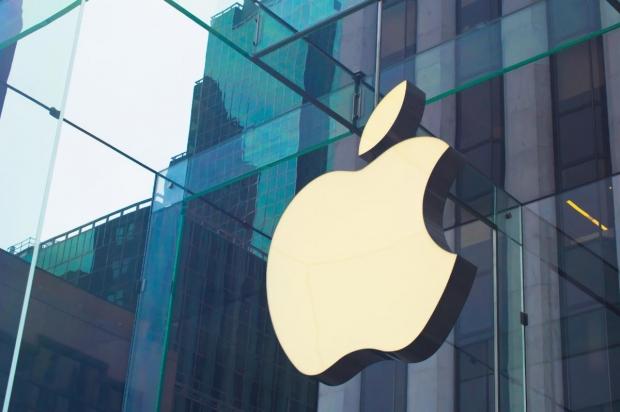 In the three-month period ended July 1, technology juggernaut Apple generated a whopping $42.4 billion in total revenues, up 7.2% year-over-year, continuing its landmark Fiscal Year 2017 earnings trajectory. The Cupertino-based company earned $10.768 billion in operating income, up 6.56% year-over-year, and $8.717 billion in net income, up 11.81% over fiscal Q3'16. As Apple's earnings grow, so too does expenses: the company saw a mighty 12% increase of operating expenses to $6.720 billion in the quarter.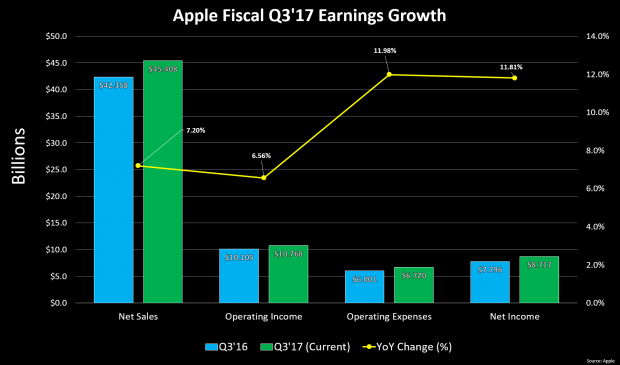 Apple CEO Tim Cook notes that third quarter growth was driven by record earnings from the company's services segment, which saw a big 22% spike in year-over-year revenues to $7.266 billion. Apple's services branch includes revenues from the App Store, iTunes, Apple Pay, and Apple Care. In fact, the services segment accounted for about 17% of total revenues for the quarter.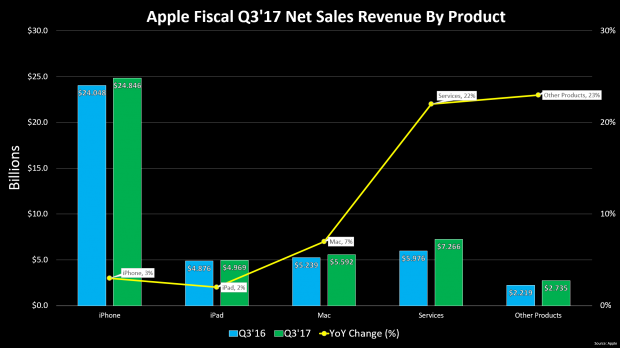 The giant's Other Products segment, which includes IoT devices like the Apple Watch, the Apple TV, as well as Beats headphones, also saw a big spike in revenue. Earnings for the segment were $2.735 billion, up a strong 23% year-over-year.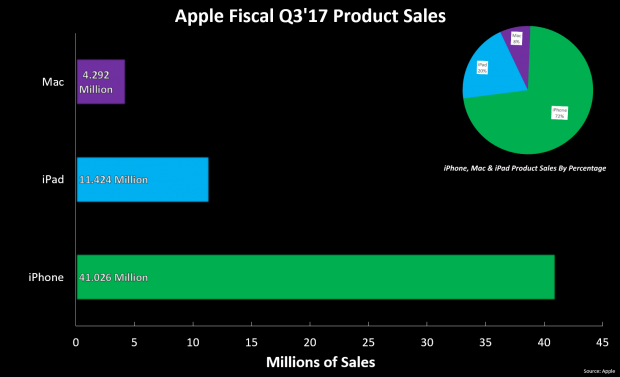 Apple's colossal iPhone was the biggest contributor for the quarter, with 41.026 million sold units pulling in $24.846 billion, or about 59% of total quarterly earnings. Mac sales followed with $5.592 billion gleaned from 4.292 million sales, up 7% and 1% respectively. iPad sales jumped by 15% to 11.424 million units sold during the three-month period, pulling in $4.969 billion or 11.72% of total net sales revenues.
The company's leadership has laid out fourth quarter earnings ending September 30, 2017, forecasting between $49 billion and $52 billion in net revenues.
"With revenue up 7 percent year-over-year, we're happy to report our third consecutive quarter of accelerating growth and an all-time quarterly record for Services revenue," said Tim Cook, Apple's CEO. "We hosted an incredibly successful Worldwide Developers Conference in June, and we're very excited about the advances in iOS, macOS, watchOS and tvOS coming this fall."
"We reported unit and revenue growth in all our product categories in the June quarter, driving 17 percent growth in earnings per share," said Luca Maestri, Apple's CFO. "We also returned $11.7 billion to investors during the quarter, bringing cumulative capital returns under our program to almost $223 billion."