E3 2017 - Sony Santa Monica's ambitious new God of War game won't release this year, Sony Interactive Entertainment today confirmed.
As Waypoint's Patrick Klepek said days before E3 started, Sony's E3 presser showcased games we won't be playing until next year. Take Sony Santa Monica's new Norse-themed God of War game, for instance. Announced at E3 2016 and showcased at E3 2017, the game doesn't even have an official release date yet and Sony has given it an "early 2018" release window on PS4.
Read Also: 'Gods walk the earth' in new Norse God of War, Ragnarok confirmed?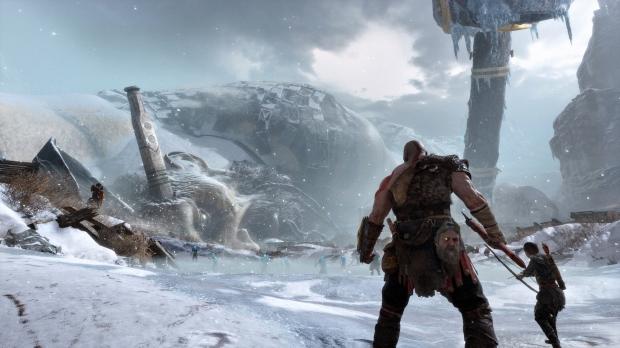 The new God of War title is a re-imagining of the series set in a unique fantasy backdrop where Norse mythology comes alive with creatures like the World Serpent Jörmungandr and the fearsome dragon Níðhöggr. Kratos is now a father who makes a long trek through this interesting world, teaching his son Atreus important lessons about survival and being a warrior.
Sony showcased a gameplay trailer during their E3 showcase to give us a taste of the visceral combat, and although the game certainly has some Skyrim fantasy elements, it's still God of War deep down inside.
God of War will release sometime in 2018 exclusively on Sony's PlayStation 4 consoles.
Check below for an official description of the game from Sony:
His vengeance against the Gods of Olympus years behind him, Kratos now lives as a man in the realm of Norse Gods and monsters. It is in this harsh, unforgiving world that he must fight to survive... And teach his son to do the same. This startling re-imagining of God of War deconstructs the core elements that defined the series-satisfying combat; breathtaking scale; and a powerful narrative-and fuses them anew.

A Second Chance

Kratos is a father again. As mentor and protector to Atreus, a son determined to earn his respect, he is forced to deal with and control the rage that has long defined him while out in a very dangerous world with his son.

A Darker, More Elemental World

From the marble and columns of ornate Olympus to the gritty forests, mountains, and caves of Pre-Viking Norse lore, this is a distinctly new realm with its own pantheon of creatures, monsters, and gods. With an added emphasis on discovery and exploration, the world will draw players in to explore every inch of God of War's breathtakingly threatening landscape-by far the largest in the franchise.

Vicious, Physical Combat

With an over the shoulder free camera that brings the player closer to the action than ever before, fights in God of War mirror the pantheon of Norse creatures Kratos will face: grand, gritty, and grueling. A new main weapon and new abilities retain the defining spirit of God of War while presenting a vision of violent conflict that forges new ground in the genre.