EA earns more from consoles than PC and mobile combined
Consoles make up 56% of EA's digital net sales, raking in $1.7 billion--more than mobile and PC gaming combined.

Published Wed, May 10 2017 3:17 PM CDT
|
Updated Tue, Nov 3 2020 11:55 AM CST
It's no surprise that key games publishers and industry movers make most of their money from consoles, but now we see just how big the divide actually is, especially for titans like EA.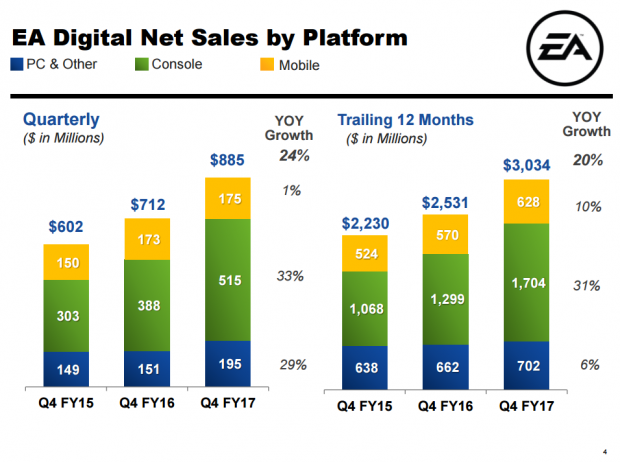 Digital sales are extremely lucrative for EA simply because digital offers microtransactions, subscription services, DLC/season pass content, and an ever-evolving business model.
As a result, EA has earned most of its net revenue and net sales from digital content: in terms of net revenue, digital puled in $3.29 billion or 54% of EA's net revenue, versus physical's $1.78 billion.
Net sales were also dominated by digital, with digital content (live services, game downloads, MTX, etc) boasting 61% of all net sales with $3.375 billion, compared to physical's $1.725 billion.
But it's important to realize that the three platforms--consoles, PC and mobile--don't have even footing in EA's earnings. Console gaming eclipses both PC and mobile in the digital sector, even though PC gaming is primarily a digital platform and consoles still strongly rely on physical disc media for its games. This gap is due to many things, not the least of which is engagement and microtransactions.
Consoles make up the lion's share of EA's digital net sales, even dominating PC and mobile's digital net sales combined.
According to EA's Fiscal Year 2017 earnings, consoles made up 56% of total digital net sales with $1.704 billion, up 31% year-over-year.
PC accounted for 23.1% of total with $702 million in digital net sales, up 6% year-over-year. Finally we have mobile, which accounted for 20.6% of digital net sales with $628 million, up 10% year-over-year.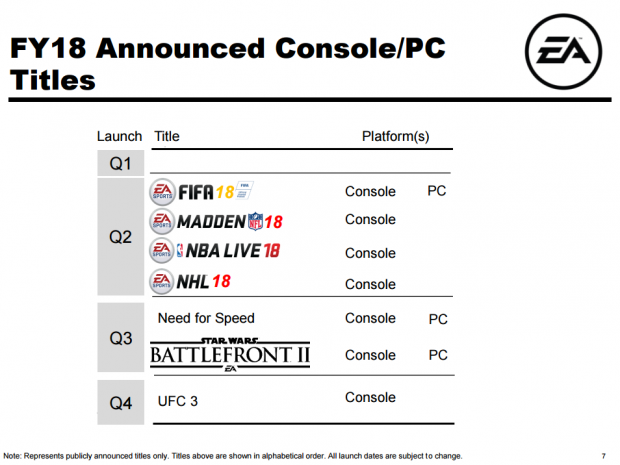 Thanks to its current games lineup, EA will ensure this rift widens: only three out of its seven new games will come to PC, and only one out of four of EA's new mega-blockbuster digital earners will cross-over--FIFA 18. EA is slated to release big hits like FIFA 18, Madden 18, NBA Live 18, and NHL 18 in Q2 2017, all of which will be huge wins for its digital net sales and net revenues due to engagement, DLC, and microtransactions.
Star Wars: Battlefront II will release on November 17 on consoles and PC, and represents another big money-maker for the publisher.
In other news, EA has just reported earnings of $1.68 billion in live services (microtransactions, DLC, season passes, map packs, and subscriptions), most of which was earned on consoles.
The main takeaway here is this: EA will continue focusing mostly on consoles first, especially with its big breadwinner games that rake in tons of cash via in-game purchases. Mobile and PC are still quite important for the company, but consoles will come first.
Related Tags