Call of Duty WWII creatively strips players of power
Sledgehammer strips players of their FPS power and plunges them headlong into the deadly chaos of world-breaking war.

Published Wed, Apr 26 2017 8:22 PM CDT
|
Updated Tue, Nov 3 2020 11:55 AM CST
With Call of Duty: WWII, Sledgehammer Games aims to create an authentic and bloody adaptation of a nation-sundering war--and it'll do that by creatively stripping players of their near-invincible FPS might.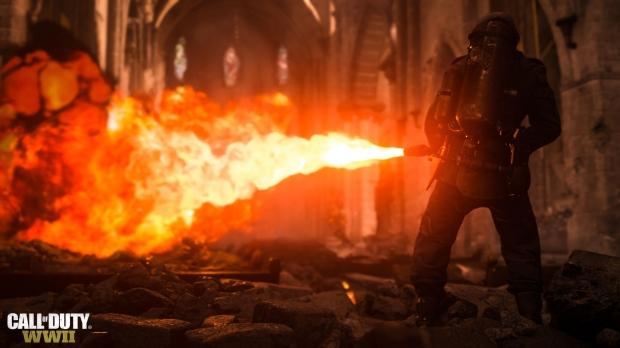 Today's shooters are all about empowerment at the sake of realism but Call of Duty WWII hopes to marry the two with a kind of visceral focus that emphasizes skill and teamwork.
One of the most creative ways the game achieves this is by not refilling your health bar after a short period of resting behind cover. The chaos of war should be simulated in such away to reflect the anything-can-happen sandbox nature of militant combat, forcing players to use their wits, adapting skills, and accuracy to survive. But it's not just about you: the 12 men that make up the 1st Infantry Division all have specific roles in combat such as medic or ammo-replenisher, meaning you have to work together with your team to survive.
"You have to worry about every bullet. You're not the superhero. You can't just stand there taking seven bullets, ducking, shooting again," Sledgehammer Games' general manager and co-founder Glenn Schofield told Polygon in a recent interview. It's refreshing for us to deal with recruits who aren't Tier One warriors, to show that vulnerability. They're naïve. It's been a really cool challenge creating this different kind of gameplay."
Read Also: Call of Duty WWII features Nazi Zombies story co-op mode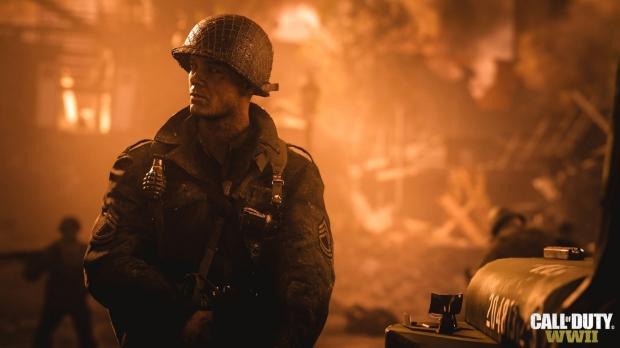 Animation director Chris Stone says that players will be vulnerable during the game's campaign and multiplayer in an effort to instill authenticity.
"In World War II, soldiers faced the enemy side-on, in order to diminish themselves as a target. They were extremely vulnerable. This made them less stable and less accurate."
"Part of being this squad and working together was about helping each other out in a very different way than in previous games," Sledgehammer's chief operating and development officer Michael Condrey told GamesRadar.
"This is relying on your squad, and so that was a mechanic where you can rely on your squad members to help you, and in that case - when you're low on ammo - your squad can share ammo. Certain members of your squad have certain attributes that can help you, and if you are in proximity to one of your squad members, and you need their help you can... it's an active ability."
Read Also: Call of Duty: WWII announced, new multiplayer modes, campaign info confirmed

If players have to rely on their teammates for ammo and health, what happens if your medic dies? What happens if your ammo guy gets blown up by a mine or a grenade? You'll feel every loss of your team both emotionally and practically throughout combat.
"Yeah - there's possibilities of important members of your squad dying," Condrey continued in the GamesRadar interview.
"You can be separated from guys with key abilities that would change how you play - if you're not with the ammo guy then you have less ability to replenish your ammo. The human loss of your squad is an important emotional impact," says Condrey, "and there'll be times that you're separated and you may lose people that are emotionally important to you, so all of those things can happen, yeah."
While we definitely need more specifics on the team dynamics and the medpack situation, it's clear that the devs have taken a sledgehammer to traditional FPS empowerment and are mixing things up quite a bit. I still expect that players will have a keen sense of power with the authentic World War II weaponry like the MG-42, M1903, and even the trusty M1 Garand. Outside of the weapons and vehicles the actual team-based combat should add a new sense of depth to the gameplay, and I'm wondering just how far Sledgehammer will go with these new mechanics.
Call of Duty: WWII will be released on November 3, 2017, and Sledgehammer Games promises new info will drop at E3 2017 including a full-on playable multiplayer test at the show.
Related Tags