We've seen Project Scorpio push games like Forza 6 to native 4K 60FPS at only 66% GPU power, but Forza is Xbox's cream of the crop. What about other games? Not surprisingly, Xbox One games that use DirectX 12 have the potential to perform amazingly well on the Project Scorpio Engine.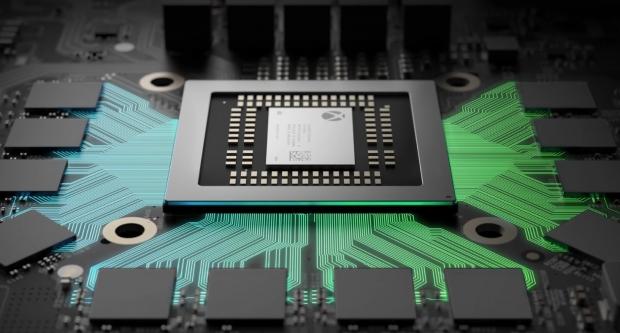 Microsoft has ingeniously baked in DirectX 12 into the Project Scorpio's GPU's command processor to significantly reduce instruction sets and thus dramatically improve the instruction command processing sent by the highly customized 2.73GHz Jaguar evolved CPU. Essentially Project Scorpio's direct hardware-based DX12 integration should substantially improve game-to-GPU communication and actively reduce CPU overhead. This streamlined efficiency is half of the magic that makes Scorpio tick, and sees the console's components in a kind of uniform synergy.
"We essentially moved Direct3D 12. We built that into the command processor of the GPU and what that means is that, for all the high frequency API invocations that the games do, they'll all natively implemented in the logic of the command processor-and what this means is that our communication from the game to the GPU is super-efficient," Microsoft told Digital Foundry.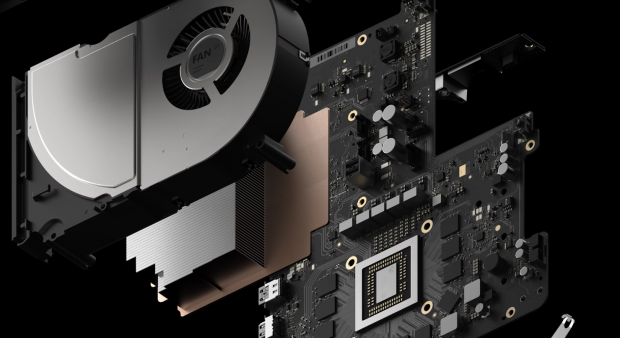 So what does this all mean? What kind of performance boosts can we expect in DX12 games like Gears of War 4, Halo 5: Guardians, Battlefield 1, and Forza Horizon 3 while running on Project Scorpio?
Microsoft told Digital Foundry's Richard Leadbetter that Project Scorpio's DirectX 12 hardware implementation should cut CPU workloads by half on DirectX 12 games.
"Roll call instructions on the CPU that would typically require thousands of instructions are now reduced to just 11," Leadbetter said in DF's exclusive Scorpio reveal.
"State changes that are also heavy on CPU are now cut down to just 9. Microsoft tells me that this custom hardware automation should cut CPU workload by half on titles built on DirectX 12 renderers."
Read Also: Project Scorpio will play all Xbox One games better, and here's how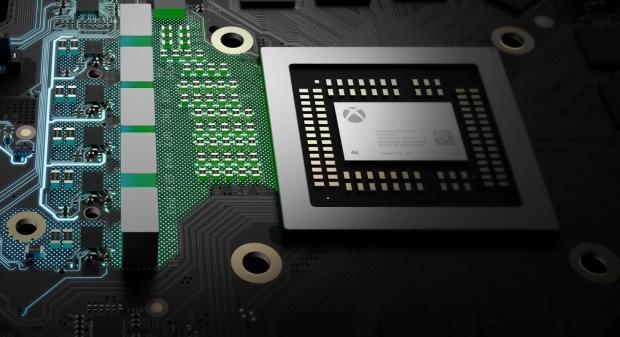 Project Scorpio confirmed specs
SoC: Highly customized 360mm² AMD System-on-Chip built on 16nm FinFET
GPU: Polaris-derived GPU with 40 Compute Units at 1172MHz, 6TFLOPs of Compute Performance
CPU: Custom x86 "Jaguar Evolved" 8-core CPU at 2.3GHz, 4MB L2 cache
Memory: 12GB GDDR5 memory with 326GB/s bandwidth (12x 6.8GHz modules on a 384-bit bus)
Storage: 1TB 2.5-inch HDD
Media: 4K UHD Blu-ray player
As we stated before, Project Scorpio is all about efficiency. The system constantly re-allocates free resources such as system RAM, various GPU features and CPU processes into the system's Scorpio Engine to boost in-game performance. With Scorpio's flexible software pipeline and myriad of UWP-powered tools, developers can use the console's free resources to help maintain native 4K resolution, consistent frame rates, and even use extra RAM as an IO cache to speed up loading times.
So when Project Scorpio has any resources free, it could translate into a hefty in-game boost in specific ways. DirectX 12 games would theoretically cut down CPU workloads, thus freeing certain processes to do more work in other ways. The system is harmonized on a true next-generation level, and every component is efficiently tailor-made to compliment one another in terms of power, scalability, and uniform power management.
Read Also: Project Scorpio devs have access to 8GB GDDR5 RAM
Remember that Digital Foundry only saw Forza 6 running on Project Scorpio, and it was a demo "port" of the original Xbox One game. We're not sure if the actual demo was running on Forza Motorsport 6 Apex's DirectX 12 engine, or the Xbox One version of Turn10's "Forzatech engine," and it'd be interesting to know which version was used to hit native 4K 60FPS at Ultra preset.
We can only imagine what developers like DICE will achieve with Project Scorpio's DX12 advantage, and we can clearly see why Battlefront 2 will be one of the major headlining games to showcase Project Scorpio's power at E3 2017.
Check out all of our technical Project Scorpio coverage here: