Destiny 2 to feature 'great story and characters'
Activision makes big promises for Destiny 2, affirming the sequel will have big changes.
Published Mar 30, 2017 2:36 PM CDT
|
Updated Tue, Nov 3 2020 11:56 AM CST
1 minute & 51 seconds read time
Bungie just released Destiny 2's official reveal trailer, confirming a PC release alongside PS4 and Xbox One on September 8. Now Activision has wasted no time talking up the sequel, promising some pretty hefty additions to the MMO-like FPS.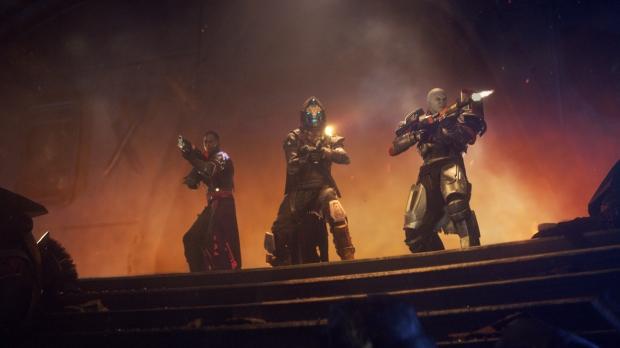 According to Activision CEO eric Hirshberg, Destiny 2 will deliver quite a few welcome changes that hopefully take fan feedback into consideration. We'll see improvements in story, characters, and "thoughtful innovations" that aim to get as many gamers into the fray as possible.
"Destiny was the biggest launch of a new console video game franchise ever. Along with our incredibly talented partners at Bungie, we are focusing on making Destiny 2 even better, with state of the art first person action, an awesome new story, great characters, and thoughtful innovations that make the game more accessible to all different kinds of players," Activision CEO Eric Hirshberg said in a recent press release.
"We're also bringing Destiny 2 to the PC platform for the first time. Destiny 2 will make an already great game franchise better than ever."
Bungie CEO Pete Parsons also says that Destiny 2 will have a "fresh inviting story":
"The past three years have been incredibly inspiring and rewarding for Bungie. To know that millions of players around the world have forged lasting Destiny memories and even made it their hobby is truly humbling and we can't wait to continue the journey," Bungie CEO Pete Parsons said in the same press release.
"We are looking forward to sharing a fresh, inviting story, and with the upcoming Destiny 2 Beta slated for this summer, we are eager to get feedback from millions of players around the world who will get a glimpse of the new adventures that will unfold for all of us. Together, with our partners at Activision, we are thrilled to get Destiny 2 in the hands of players in September."
Destiny 2 will take place in the solar system, but we could see new planets at the most and new areas on the same planets at the least.
Destiny 2 drops on September 8, 2017 on PS4, Xbox One and PC.
Related Tags