Destiny 2 confirmed for PC release
Bungie has officially announced Destiny 2's launch date and indirectly confirmed a PC launch.

Published Thu, Mar 30 2017 12:41 PM CDT
|
Updated Tue, Nov 3 2020 11:56 AM CST
Bungie made good on their promise and dropped a reveal trailer for Destiny 2 and we finally get a confirmation of a PC release.
Destiny 2's launch trailer confirmed two things about the recent leaks: a September 8 release date, and the siege on the Guardians' home. But what about a PC release date? In pure cryptic Bungie fashion, the devs decided not to confirm platforms just yet...but the game's official pre-order page shows PC among PS4 and Xbox One platforms.
Of course, no official gameplay footage was shown off, and pre-orders have already opened up for four different versions of the game across all platforms. Destiny 2 will have a standard edition for $59.99, an expansion pass+base game edition for $89.99, a digital deluxe edition for $99, a limited edition for $99, and a collector's edition for a whopping $249.99 (which is the price of a base PS4 slim).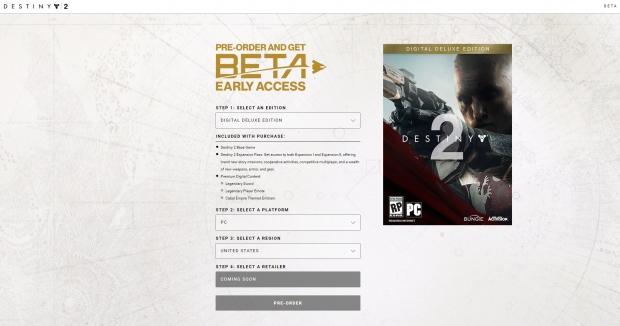 From the makers of the acclaimed hit game Destiny, comes the much-anticipated sequel. An action shooter that takes you on an epic journey across the solar system.

Humanity's last safe city has fallen to an overwhelming invasion force, led by Ghaul, the imposing commander of the brutal Red Legion. He has stripped the city's Guardians of their power, and forced the survivors to flee. You will venture to mysterious, unexplored worlds of our solar system to discover an arsenal of weapons and devastating new combat abilities. To defeat the Red Legion and confront Ghaul, you must reunite humanity's scattered heroes, stand together, and fight back to reclaim our home.
Destiny 2 will launch on September 8, 2017 across PS4, Xbox One and PC. All pre-orders will unlock beta access, and PS4 gamers will get timed exclusive content until 2018.
Check below for more info on the different versions of Destiny 2.
Destiny 2 will have an Expansion Pass that unlocks two expansions for $29.99.
"Get access to both Expansion I and Expansion II, offering brand new story missions, cooperative activities, competitive multiplayer, and a wealth of new weapons, armor, and gear."
Digital Deluxe Edition $99
Destiny 2 Base Game

Destiny 2 Expansion Pass: Get access to both Expansion I and Expansion II, offering brand new story missions, cooperative activities, competitive multiplayer, and a wealth of new weapons, armor, and gear.

Premium Digital Content:

Legendary Sword

Legendary Player Emote

Cabal Empire Themed Emblem
Limited Edition - $99
Destiny 2 Base Game

Destiny 2 Expansion Pass: Get access to both Expansion I and Expansion II, offering brand new story missions, cooperative activities, competitive multiplayer, and a wealth of new weapons, armor, and gear.

Limited Edition SteelBook® Case

Cabal-themed Collector's Box, containing:

Booklet with secrets into the Cabal Empire

Cabal Schematic

Collectible Postcard Images

Cabal Military Pawns
Premium digital content:
Legendary Sword
Legendary Player Emote
Cabal Empire Themed Emblem
Collector's Edition - $249
Destiny 2 Base Game

Destiny 2 Expansion Pass: Get access to both Expansion I and Expansion II, offering brand new story missions, cooperative activities, competitive multiplayer, and a wealth of new weapons, armor, and gear.

Destiny 2 - Frontier Bag

Customizable bag that can be worn as a backpack or messenger bag

15" Laptop/Tablet Sleeve with protective pocket slip

Frontier Kit, featuring:

Solar panel USB charger with built-in light

Paracord

Solar blanket

Limited Edition SteelBook® Case

Booklet with secrets into the Cabal Empire

Cabal Schematic

Collectible Postcard Images

Cabal Military Pawns

Premium digital content:

Legendary Sword

Legendary Player Emote

Cabal Empire Themed Emblem
Related Tags