Switch dock uses Mobility DisplayPort to HDMI converter
Nintendo Switch's dock uses an interesting chip that passes uncompressed mobile 1080p 60Hz video signals to FHD displays via Mobility DisplayPort.

Published Sat, Mar 11 2017 6:08 PM CST
|
Updated Tue, Nov 3 2020 11:56 AM CST
The Nintendo Switch dock only has one small circuit board that essentially acts as a pass through for video and power. Thanks to a recent iFixit teardown, we know exactly what makes the Switch dock tick.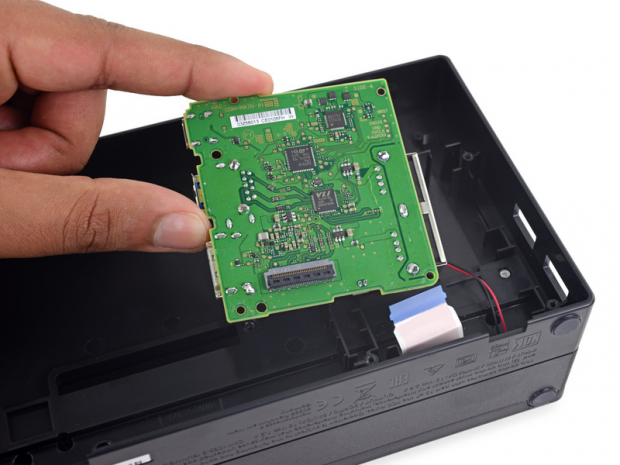 Many gamers have wondered why they can't just connect the Switch directly to their TV and completely circumvent the dock altogether. As we've reported long ago, the Switch's cradle is required as it not only passes the video and audio signals from the console to the TV, but supplies power from the AC adapter to the Switch itself. This synergy is harmonious, and uses the newer USB Type-C protocol for console tethering and standard HDMI out for 1080p HDTVs.
Interestingly enough, the Switch dock has a specific chip in it that facilitates the video conversion: Megachips' STDP2550 Mobility DisplayPort (MyDP) to HDMI Converter.
Mobility DisplayPort (aka MyDP) was established in 2012, and is specifically built to enable high-quality 1080p 60Hz mobile-to-display video, audio, and 3D content.
"MyDP is an extension of the DisplayPort connectivity standard that enables mobile devices to share high-definition video, audio, and 3D content with the broad universe of larger external displays through common, widely adopted connectors. Offering the industry's highest mobile-to-display image resolution, MyDP allows consumers to experience their mobile content in full, uncompressed 1080p (HDTV)," reads the official description on the VESA page.
When docked into the cradle, the Switch transmits its video and audio input signals through the USB Type-C male port, which are then passed to the STDP2550 chip, and then outputted through the circuit board's HDMI-out port and projected onto HDTVs. The STDP2550 can deliver uncompressed 1080p 60Hz video and 3D content, and a max resolution of 4K 30Hz.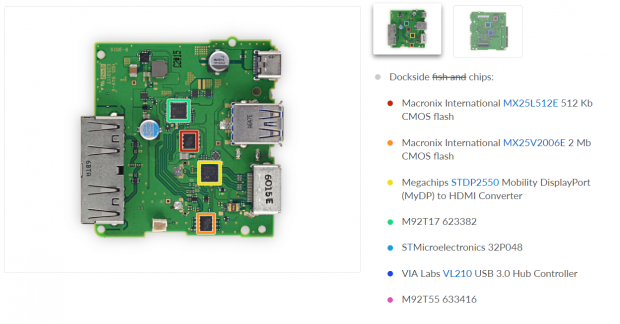 The STDP2550 uses MegaChips' latest generation DisplayPort receiver technology that supports a single AV stream at HBR2 speed, a data rate of 5.4 Gbps per lane. Also, the HDMI transmitter in STDP2550 is based on advanced high-speed TMDS technology supporting link rate up to 2.97 Gbps and the stereo 3D formats.

It can deliver 1080p 60 Hz video with a color depth of 24 bits per pixel and audio up to 8-channel at 192 Kb sample rate from a MyDP source to HDMI TV. This device complies with the HDCP 1.3 content protection scheme with an embedded key option for secure transmission of premium digital AV content. It can also act as an HDCP repeater for the downstream sink when used in a dongle application.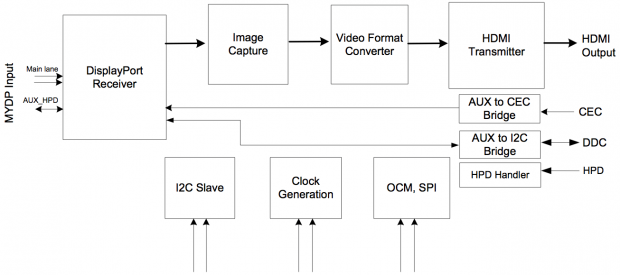 With the MyDP standard, high-quality audio, video, and 3D content can be shared from a mobile device to a larger external DisplayPort or HDMI equipped display, including a PC monitor, digital signage display or HDTV, using the micro-USB connector found on the majority of smartphones and tablets. By leveraging a simple passive cable, consumers can instantly experience their content at 1080P full HD resolution, 24-bit color, and 60Hz.

Consumers can also access the millions of legacy DVI and VGA displays, projectors and TVs through the use of MyDP adaptors and active converters. The MyDP interface also includes a robust 1Mbps sideband channel that provides enough bandwidth to support accessory functions including multi-touch, keyboard, mouse, and remote control of the external display.

Furthermore, MyDP enables charging of the mobile device battery, through the MyDP cable, from the power provided by the DisplayPort-enabled display, while content is enjoyed.
MegaChips STDP2550 Features
DisplayPort1.2a / MyDP1.2a receiver

HDMI1.4 transmitter

Protocol converter up to 2.97Gpbs/Ch

Max video resolution 4K2K 30Hz

Steroscopic 3D forwarding

HDCP1.x repeater with embedded keys

ASSR- eDP display authentication

Spread spectrum on DisplayPort interface for EMI reduction

Deep color support- RGB/YCbCr up to 16bits per color

AUX to I2C bridge for EDID/MCCS pass through

Power consumption: Active 462mW; Standby 21mW

81 BGA (5mm x 5mm) package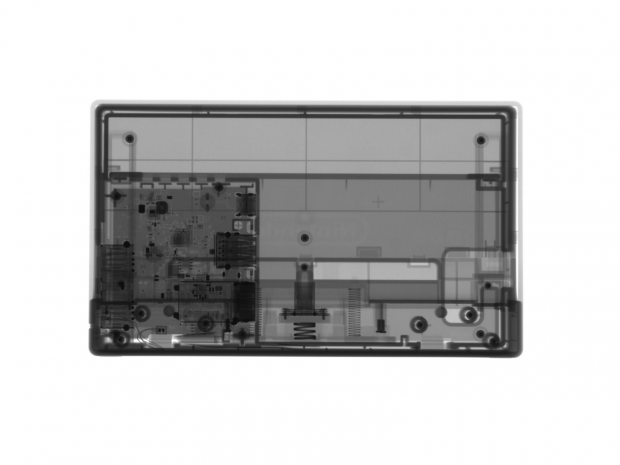 So in essence, the Switch is defined as a mobile device--at least in terms of this video conversion chip.
NVIDIA's Tegra superchip was designed for both mobile gaming via its Shield Tablet and Shield Portable, and stationary micro-console gaming via its older and newer Shield TV Android set-top boxes. The Nintendo Switch merges both of these form factors to make a mobile-and-console hybrid device.
We thought this was quite interesting and wanted to share it with all Nintendo Switch owners out there!
Related Tags