Warner Bros Games and Monolith Productions just dropped the first-ever gameplay footage for Middle-earth Shadow of War, and have a strong feeling tactical gamers are going to love it.
Shadow of War is a direct sequel to Middle-earth Shadow of Mordor, and this time around players will actually get to make their own orc army while wielding enhanced new powers.
The gameplay footage is showcased on an Xbox One console, and highlights all the different combinations of powers and clever experimentation needed to strategically annihilate your foes. In a way it reminds me of Lord of the Rings chess--only in a massively dynamic open-scale third-person environment.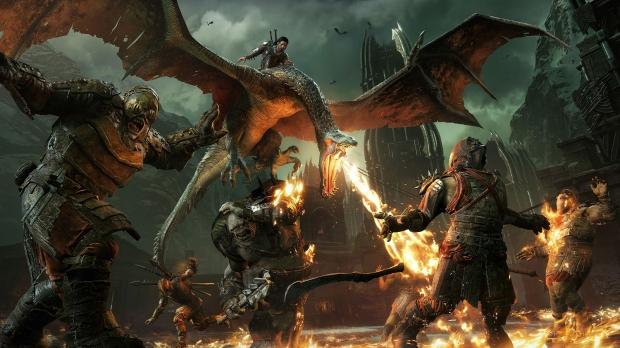 Of course you're not just leading an army, but slicing and dicing enemies on-foot with your new orc allies. The Nemesis system is where the game really shines: it's been pushed to a next-gen level, featuring advanced AI that will react to your in-game choices even more than before.
For example, if you kill too many leaders, lesser bosses will be terrified of your presence, and you can literally dominate their minds with the in-game ring of power and essentially recruit them to your side.
"In Shadow of War, the Nemesis system allows your followers can create entirely new stories of loyalty, betrayal, rivalry and even friendship."
You can even ride a drake into battle. Let me say that again: you can ride a drake into battle. Scream through the skies on a drake's scaled back, slinging fiery doom and clawing out the eyes of hulking orc monstrosities while you lay siege to an entire orc stronghold. It looks extremely satisfying to say the least.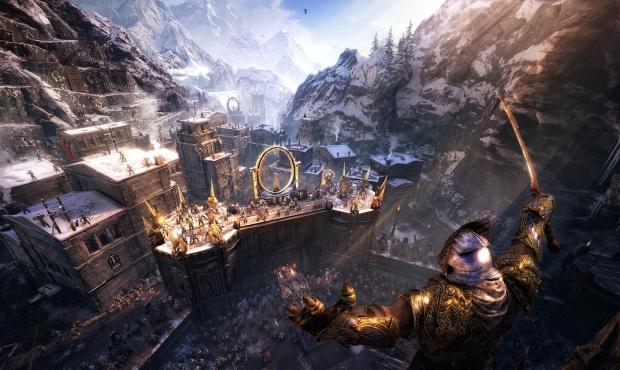 Everything looks and feels like Lord of the Rings, and the mythos seems firmly intact. The combat looks grisly and oh-so-satisfying, and I'm quite hyped for the Nemesis system this time around, especially given all the tactical strategy Monolith has thrown into the mix this time.
While the game is indeed third-person action, there's a very real RTS-style system a play here: when you conquer areas, you'll increase your army's overall power and supply your ever-growing forces with resources and bases to train your legions. You can even select new overlords to rule over captured bases in your stead.
Shadow of War looks to be a game about conquest, mayhem, war and last but not least, lore. And we can't wait to try it.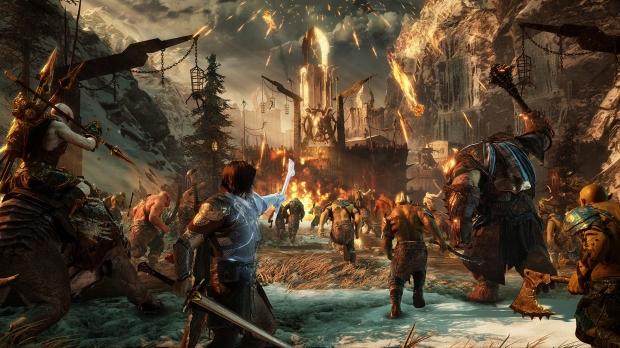 Middle-earth Shadow of War launches on August 22, 2017 for PS4, PS4 Pro, Xbox One, Project Scorpio, and Windows 10 PCs.
Check below for PC spec requirements, a description, and the official reveal trailer announcement.
MINIMUM:
OS: Windows 7 SP1 with Platform Update for Windows 7
Processor: Intel i5-2550K, 3.4GHz
Memory: 8 GB RAM
Graphics: GeForce GTX 670 | Radeon HD 7950
DirectX: Version 11
Network: Broadband Internet connection
Storage: 60 GB available space
RECOMMENDED:
OS: Windows 10 version 14393.102 or higher required
Processor: Intel Core i7-3770, 3.4GHz
Memory: 16 GB RAM
Graphics: GeForce GTX 970 or GeForce GTX 1060 | Radeon R9 290X or Radeon RX 480
DirectX: Version 11
Storage: 60 GB available space
"Experience an epic open-world brought to life by the award-winning Nemesis System. Forge a new Ring of Power, conquer Fortresses in massive battles and dominate Mordor with your personal Orc army in Middle-earth: Shadow of War. Go behind enemy lines to forge your army, conquer Fortresses and dominate Mordor from within.

"Experience how the award winning Nemesis System creates unique personal stories with every enemy and follower, and confront the full power of the Dark Lord Sauron and his Ringwraiths in this epic new story of Middle-earth. In Middle-earth: Shadow of War, nothing will be forgotten."