The European Business Angels Network (EBAN) conference opened its doors today in Zagreb, Croatia. One of the first speakers and certainly the biggest star of the event was Bruce Dickinson, the voice of the legendary band Iron Maiden.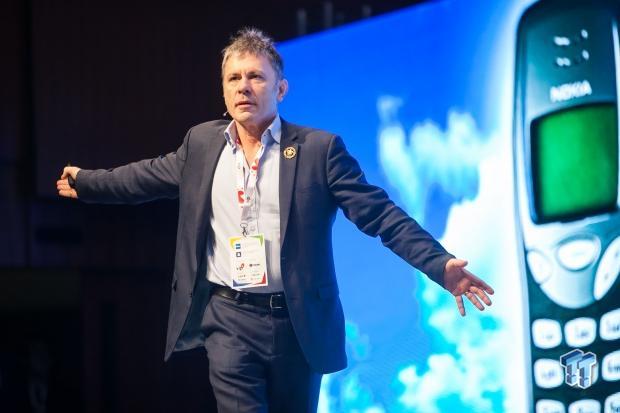 Those who follow Dickinson's work know that he is so much more than an amazing voice behind the iconic band. He's a pilot, an entrepreneur, and an investor. Dickinson spoke about his business adventures and said that he approaches business the same way he writes songs. It doesn't matter if the music or the lyrics come first during the process, what matters is that it all fits in.
"You need to remember what it was like to be a child. Not childish, but child-like. You need to dream," said Bruce.
Dickinson pointed out a big difference between successful and unsuccessful companies - the first ones treat their customers as loyal fans, while the other ones treat them exclusively as customers that bring them money.
The Iron Maiden singer said that he found inspiration in Jimi Hendrix. In his highly amusing and energetic speech, he described his steps as an entrepreneur and concluded that "when you do crazy things, good things happen."
Outside his career in music, Dickinson undertook a career as a commercial pilot, which later resulted in captaining Iron Maiden's tour plane, which he pointed out, is the most photographed plane in the world.
He also created his own aircraft maintenance and pilot training company. One of his projects that he's extremely proud of is providing support to Air Djibouti, for whom he piloted their maiden flight the following year.
In the middle of his speech, Dickinson's head-worn microphone failed, and he was given a microphone which led him to take a pose as he was performing with his band. Of course, the entire hall applauded, and Bruce showed he's extraordinarily spontaneous and an entertaining figure.
Another one of his successful businesses is the Iron Maiden beer, which the band sells in 2.5 million liters a year.
Dickinson's keynote was extremely amusing, fun, but also inspiring and many attendees from different startups will find the inspiration to pursue their dreams.
"Never ever give up! And when you fail, and you will - get up and continue. Don't give up!", concluded Dickinson.