Mass Effect: Andromeda could be delayed again
EA won't rush Mass Effect: Andromeda out the door unfinished; the company plans to delay the game again if it doesn't 'deliver the right experience'

Published Fri, Nov 4 2016 9:14 AM CDT
|
Updated Tue, Nov 3 2020 11:57 AM CST
N7 Day is just three days away, and EA is expected to finally reveal Mass Effect: Andromeda's 2017 release date. That date won't be set in stone, however: EA says that it will delay the game as far as half a year if BioWare needs more time.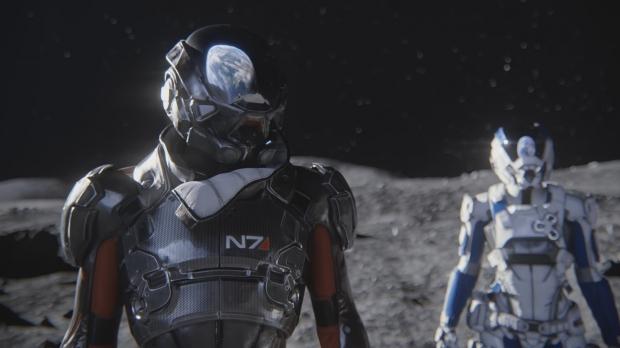 Even amidst its new push towards action games, EA understands that the Mass Effect IP is a juggernaut that can't be rushed out the door.
BioWare has been diligently working on the game for years now, and the game itself has shown up at major trade shows like E3 2016 with hardly any in-game footage. There's a reason for that: EA is giving BioWare all the time they need to make the game great.
Although the publisher says ME: Andromeda will launch in Spring 2017, that release date is actually quite flexible, so if the devs need more time, they'll absolutely get it.
"Our focus -- the way to think about it is our focus is on building great games. Right now, Mass Effect is tracking extremely well. The game looks beautiful, and we're really pleased with its progress. However, as you've seen, we are willing to make moves in launch dates if we feel it's necessary to deliver the right player experience," EA's Chief Financial Officer Black Jorgensen in the company's Q2 FY2017 earnings call.
"Our guidance assumes that Mass Effect continues to be in this year; but it gives us some flexibility that we might choose to move it either a week or three or four or five months if we have to, based on what we want to make sure in terms of delivering the right experience for the player."
Read Also: Mass Effect: Andromeda embraces new 'shades of grey' morality system
Thanks to a possible mixup, Mass Effect: Andromeda is expected to launch in March 2017 on PS4, Xbox One and PC.
The interstellar RPG will run at 4K 30FPS on Sony's new PS4 Pro console, and it'll also have a 1080p enhancement mode to benefit HDTV users.
We'll be sure to keep you updated when N7 Day rolls around, and be sure to sign up for updates by enlisting into the Andromeda Initiative.
"In Mass Effect; Andromeda, you are part of an ambitious expedition in the Milky Way Galaxy to help humanity find a new home. You travel millions of light years across the galaxy...to wake up. So what now? Everything is new. You encounter new species, new technologies. You have to be among the most courageous to make this journey; because in this galaxy, you're the alien. How far will we go? That question is also at the heart of Mass Effect: Andromeda," BioWare's Aaron Flynn said on stage.

"The original Mass Effect trilogy was an amazing story, and its the heart of what we do. But this...this is a whole new adventure. We're building on the things you love about Mass Effect: amazing stories and gameplay and now we're letting our imaginations run wild. This is a bigger adventure filled with a whole new cast of characters, and more freedom than we've ever given to a BioWare game before. And for the first time, it's all powered by Frostbite." "This means you're going to see, hear, and feel Mass Effect like never before. That's our promise to you."
Related Tags