Pokemon Sun and Moon won't be in full 3D on 3DS
Pokemon Sun and Moon will have minimal 3D support when it releases this November.

Published Thu, Oct 13 2016 11:53 AM CDT
|
Updated Tue, Nov 3 2020 11:58 AM CST
Most 3DS games have full 3D modes that leverage the handheld's gimmicky 3D feature. But oddly enough, Pokemon Sun and Moon won't support stereoscopic 3D except in a mini-game.
Unlike its predecessor, Pokemon Sun and Moon won't have stereoscopic 3D support in battles. In fact, 3D support is exclusively reserved for a small Pokemon Snap-like mini-game that has players traveling around regions taking pictures of Pokemon.
While most gamers don't really like the Nintendo 3DS' 3D feature and play their games with it toggled off (myself included), I do find it strange that Game Freak would almost completely abandon the feature. I think that most gamers would buy a 2DS clamshell handheld over the 3DS any day, but I don't see Nintendo doing this any time soon.
@GameXplain Hey! We were told 3D only works in the Pokemon Snap-like mode. Not in battles.

— Jose Otero (@jose_otero) October 12, 2016
Read Also: These seven new Pokemon are quite...interesting
In other Pokemon Sun and Moon news, critics are raving about their preview sessions with the games. The consensus is that Game Freak and the Pokemon Company have created a brand new adventure that integrates Pokemon more tightly with the storyline, putting the creatures front and center of the experience.
Japanese games magazine CoroCoro also revealed scans of new Pokemon evolutions for Jangmo-o and Type: Null. The publication also confirmed Alolan Grimer.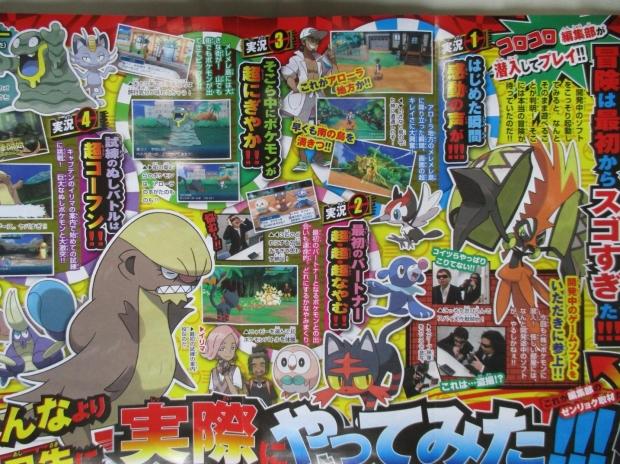 Reports via Serebii
The first images from CoroCoro have leaked and have revealed the latest news on Sun & Moon. As always, do note that translations are preliminary while we work on them. These images confirm the information revealed yesterday but not shown of Jangmo-o's evolutions, Jarango & Jararanga, and Type: Null and its evolution Silvadi.

When Type: Null finds a trainer it trusts, it destroys its helmet and evolves into Silvadi. While it is Normal-type as standard, there is a special hold item called Memory that lets it be one of all 18 types at any one time thanks to its ability, AR System. It's not currently known if it's one item that can change this, or if there are 18 different ones. The type change is reflected in its eyes, mane and tail which glow the colour representing the type. It has a new attack called Multi Attack which changes type based on its hold item.

It also confirms the Trial Captain Ilmia is the first Trial Captain 06:57: The first town is known in Japan as Hauori City
Related Tags