No Man's Sky is built on two key emotions, says devs
'Day one, we didn't want to make the perfect game. We didn't actually even want to make a game you could play forever. It was about something else.'

Published Sat, Aug 20 2016 2:51 PM CDT
|
Updated Tue, Nov 3 2020 11:58 AM CST
No Man's Sky creator and lead developer Sean Murray reveals exactly why Hello Games made their procedurally generated space sim, and the two emotions that he wants to pass across to gamers.
Hello Games didn't want to make a perfect game with No Man's Sky. They didn't want everyone to like it, and they wanted it to be different and unlike anything we've really played before.
Speaking at the European Space Agency in Darmstadt, Germany, Sean Murray says he made the game specifically to make gamers feel two things: as if they've stepped into a sci-fi book cover to make the awe-inspiring excitement of planet discovery feel real, if only for a small while, and using the game's massive scope to trigger an understanding of how big our universe actually is.
The devs knew they were too small to make something that was amazing 100% of the time, so they chose to exemplify specific parts of the game and tie emotions with these parts that speak to both a player's heart and imagination. In my official No Man's Sky review, I talked about how the devs achieved this explicitly well, and how this kind of imaginative wonder actually worked against the game itself.
Even still, the devs wanted to present a clear message to gamers regardless of the costs and risks.
Below we have a recorded transcript of Sean Murray's speech interspersed with in-game screenshots: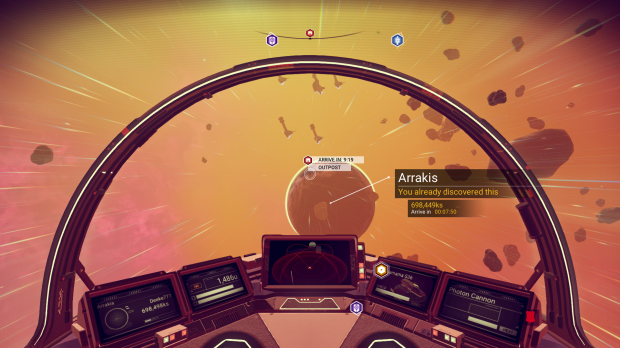 "When we sat down and starting writing, we wanted the game to be different. What that actually means is that...I don't think everyone's going to like the game. We don't want that, actually. I want it to be a little bit polarizing. I think we're too small a team to sit down and make the perfect game. That's not what we're trying to do."
"Over time, if we continually update it, we can remove all the rough edges and fix every problem and balance issue or whatever."
"But day one, we didn't want to make the perfect game. We didn't actually even want to make a game you could play forever."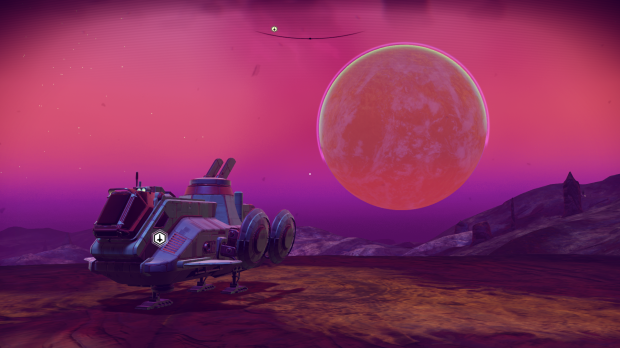 "Again, through updates and things like that maybe we can nurture that. But it's never what we set out to do. Because we're tiny. What we wanted to do is make you feel two emotions."
"One of those emotions is the feeling of just landing on a planet, and just once making that feel a little bit real and like "Wow, I found this new place."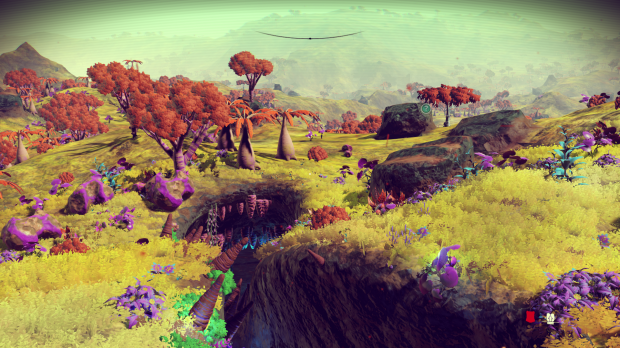 "We can't possibly make something that will provide endless hours of wonder. You can't sit and experience wonder for 24 hours--if you sit at Niagra Falls for 24 hours, you'll actually become bored eventually."
"We wanted just once for you to get out of your ship and think "Wow!" and for this to feel a little bit real and a little bit like you've stepped through a sci-fi book cover. If we've done that, if you feel this emotion in any way, then I'm happy."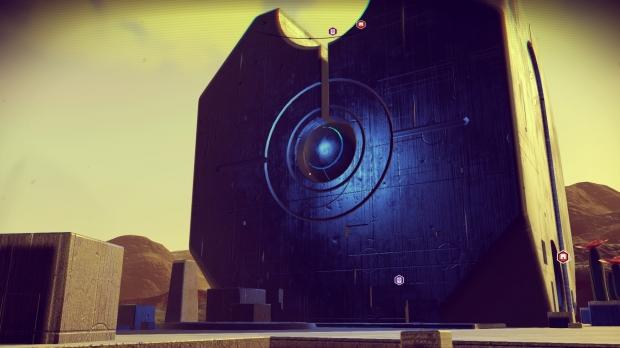 What about the other emotion? Murray says that the other half of the No Man's Sky equation is having the game's incredibly massive scale trigger some sort of understanding or realization to how truly infinite our universe is.
"If you go into our galactic map and our flying through the map and start to get a sense of the how big the universe is that we've made, and then you realize that that's actually much, much smaller--even though its near-infinite--than the universe we're in.
"If people feel that emotion just for a minute, just think how amazing that is, then I'm really happy. Games don't generally do that. If we can get those two things across, and if gamers feel that in any way, then I'm happy."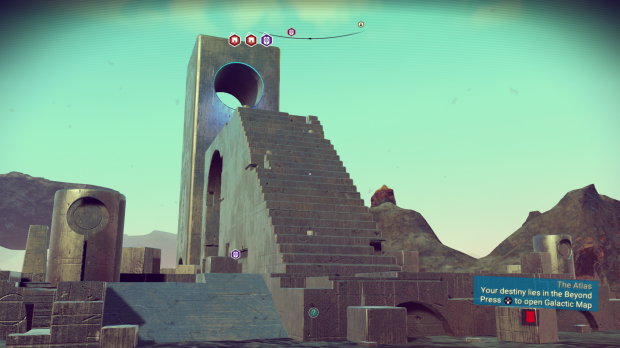 No Man's Sky isn't for everyone, and Hello Games is okay with that. They know exactly why the made the game: to strum a specific intergalactic chord that resonates with the inner astronaut in all of us, the side of us that looks to the firmament above and wonders about other worlds. The part of us that wants to leave Earth behind and roam the heavens in search of whatever's out there, to roam freely among the stars and simply see what lays beyond the rim of our galaxy.
Man has long looked to the sky and wondered, and it's this same spirit that Hello Games wants to capture. I think they have. For better or for worse, No Man's Sky has opened a window into the beyond and let our imaginations roam free.
Related Tags