Gamescom 2016 - A Half-Life 3 banner has been spotted at Gamescom 2016 in Cologne, Germany alongside concrete AAA games like Titanfall 2 and Watch Dogs 2.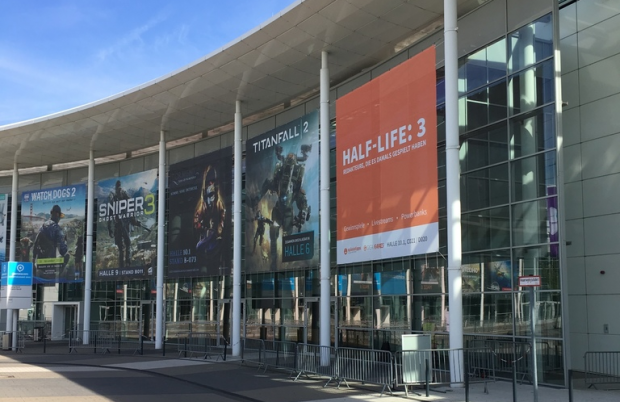 Gamescom attendees' hearts no-doubt caught in their throats while gazing upon the worlds Half-Life 3 upon a massive orange banner. The canvas poster entices a fleeting thought--is the decade-long wait finally over? Is Gordon Freeman's journey going to continue? Is Valve a games developer again?
Alas, all of our hope is in vain. The banner is just a taunting trick--a real-life orange Rick Roll, if you will--from the teasers at GIGA Games. The poster is in German, and translates to "Half-Life: 3 editors who played it back then," not "Half-Life 3: your dreams have been answered."
So essentially the banner is advertising three people who played the original game instead of the massively anticipated FPS whose confirmation would break the entirety of the internet. Ugh.
Half-Life fans are used to these kinds of thing and it won't jeopardize our resilience. We've been hardened by years and years of trolling, misdirection and hoaxes. Compared to the infamous NeoGAF first Half-Life 3 screenshots hoax, this is just a drop in the bucket that is HL3 hype.
Valve has to reveal something soon. Just believe, and it'll happen. Hopefully.