Facebook has somehow continued its growth into 2016, with the company reporting its second quarter earnings, where we now know just how many people use Facebook daily, and monthly.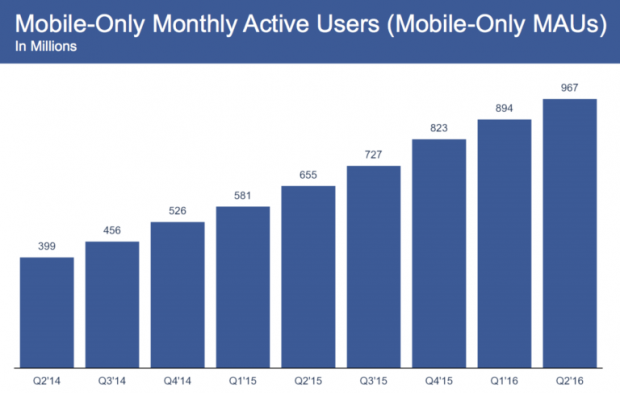 Facebook is now home to over 1.7 billion monthly active users (MAUs), which is a nice increase of 15% year-over-year, while we have 1.57 billion monthly active users on mobile. Facebook has also hit another milestone, where the social network is now home to over 1 billion mobile daily active users (DAUs).
The company defines MAUs as "Mobile-only MAUs are defined as users who accessed Facebook solely through mobile apps or mobile versions of our website, or used our Messenger app, in the last 30 days of the given quarter. The number of mobile-only MAUs do not include Instagram users unless they would otherwise qualify as such users based on their other activities on Facebook".
Profit wise, Facebook weer able to triple its profit to $2.06 billion. But is this growth sustainable? Facebook CEO and founder Mark Zuckerberg says that the company is looking into other areas where growth has no limits, like video - with Facebook Live being a huge tool recently. We've been using it with great success, and will be using it even more going into the future.
Remember that Facebook also purchased Oculus a few years ago, so they have their Rift VR headset, and they also work closely with Samsung on the GearVR. 360-degree content is another large part of Facebook now, mobile video and 360-degree content is only going to get bigger under Facebook.