The free August Games With Gold titles have been revealed ahead of schedule, and they're not actually pretty good this time around.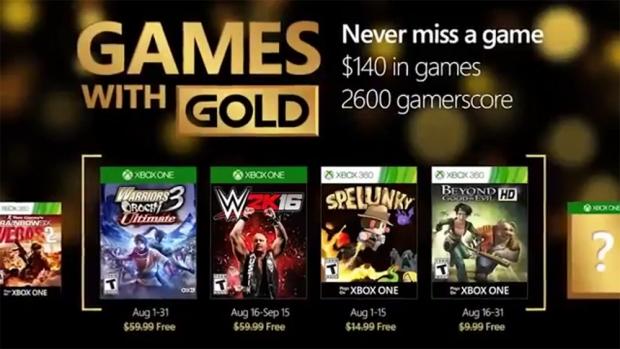 Thankfully it looks like the days of Pool Nation HD repeats are gone forever: August's GwG lineup includes some rather decent titles on Xbox 360 and Xbox One. On the "all-in-one console" we have Warriors Orochi 3 Ultimate, one of the best Musou games on the market, and WWE 2K16, a semi-competent wrestler that seems to be a big improvement over the broken WWE 2K15.
On Xbox 360 the offerings are lighter fare for GwG August. Sadly we won't be seeing any AAA titles this time around, with the free games limited to XBLA games like Spelunky and Beyond Good & Evil HD. Don't get me wrong, both of these games are pretty good on their own right, but it's not necessarily what Xbox 360 users are used to. Then again a good portion of the Xbox 360's library has already been given away for free.
Microsoft promises that August's GwG offering is "$140 in games" and 2600 Gamerscore achievement points. I dunno about that price, especially since a lot of these games can be had for fractions of the price now that they're quite old.
Xbox One
Warriors Orochi 3 Ultimate (Aug 1 - 31)
WWE 2k16 (Aug 16 - Sept 15)
Xbox 360
Spelunky (Aug 1-15)
Beyond Good & Evil HD (Aug 16-31)