Valve plans to shut down Steam-based CS:GO gambling sites
Valve wants to thwart the CS:GO gambling racket, and officially responds to the gambling controversy.

Published Wed, Jul 13 2016 3:39 PM CDT
|
Updated Tue, Nov 3 2020 11:59 AM CST
Valve has officially responded to the CS:GO gambling and lottery-fixing controversy that's embroiled the PC gaming world.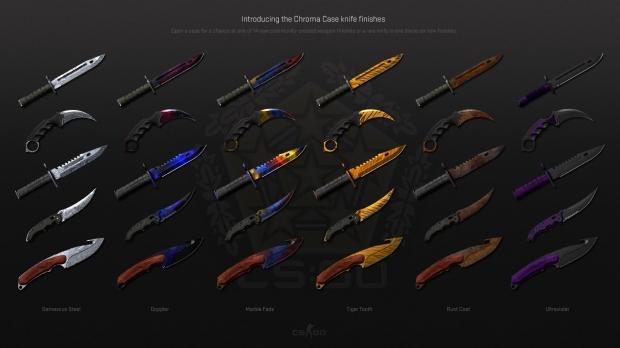 I'm sure most of you have already heard about the CS:GO Lotto scandal, and how popular YouTuber's TmarTn and ProSyndicate have been caught promoting and encouraging gamers to throw money into the skin-gambling site while secretly owning it. The CS:GO skin trade is an incredibly lucrative industry, allowing everyday gamers to bet in-game weapon skins worth real money against other betters across the world. Now Valve has broken its long silence on the matter to deliver an official statement.
Valve begins by explaining how these lottery sites work, and explaining how they're not directly involved in the in-game economies. Valve goes on to note that the specific way that these sites use Steam's OpenID API to "run a gambling business isn't allowed by our API nor our user agreements." The Steam operators then promise to start shutting down these seedy gambling rings and "start sending notices to these sites requesting they cease operations through Steam" and also promise to "pursue the matter as necessary."
See the full statement below:
"In 2011, we added a feature to Steam that enabled users to trade in-game items as a way to make it easier for people to get the items they wanted in games featuring in-game economies.
"Since then a number of gambling sites started leveraging the Steam trading system, and there's been some false assumptions about our involvement with these sites. We'd like to clarify that we have no business relationships with any of these sites. We have never received any revenue from them. And Steam does not have a system for turning in-game items into real-world currency.
"These sites have basically pieced together their operations in two-part fashion. First, they are using the OpenID API as a way for users to prove ownership of their Steam accounts and items. Any other information they obtain about a user's Steam account is either manually disclosed by the user or obtained from the user's Steam Community profile (when the user has chosen to make their profile public). Second, they create automated Steam accounts that make the same web calls as individual Steam users.
"Using the OpenID API and making the same web calls as Steam users to run a gambling business is not allowed by our API nor our user agreements. We are going to start sending notices to these sites requesting they cease operations through Steam, and further pursue the matter as necessary. Users should probably consider this information as they manage their in-game item inventory and trade activity."
Up until now Valve's silence has been seen as complacency with the "illegal" and "misleading" CS:GO gambling skin trade, leading to many lawsuits being filed against Valve. Lawyers have even gone so far as to say Valve's actions regarding this unregulated gambling racket are "unconscionable."
It'll be interesting to see how this pans out for Valve, but for now it looks like the company is going to clean up its gunked-up pipes and stop millions of misled teen gamers from being taken advantage of--while using Steam, at least.
Related Tags