Eidos Montreal confirms that Deus Ex: Mankind Divided will have a NewGame+ mode to allow players to continue their journey even after the game ends.
Deus Ex: Mankind Divided is a game about choice, and like any Deus Ex game, it gives a staggering amount of freedom to the player. Not only do we get to choose how to handle any given situation, how to build up Jensen's huge armory of weapons and abilities, or how our decisions impact everyday people, gamers get to choose when Jensen's story actually ends.
"We know New Game + totally breaks the narrative, but this is a game about choice, so we wanted players to explore that in this aspect too," Eidos Montreal Executive Narrative Director Mary DeMarle said in a recent PlayStation Blog post. "Your augmentations in New Game + really let you take advantage and get access to stuff that you didn't know was there the first time, especially as we designed the game to feature more verticality and 360 entrances for some of the buildings."
As someone who usually spends anywhere from 90-100+ hours in a Deus Ex game, NewGame+ is a total must. Mankind Divided also has an incredible amount of replayability with its huge amount of branching decisions, and players will have plenty of opportunities to try out new paths and experiences.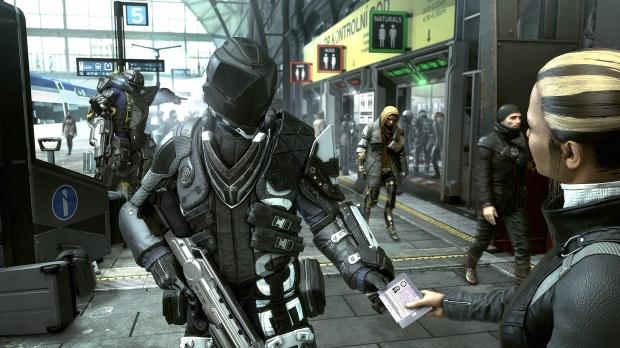 Eidos gave us a taste of Mankind Divided at E3 2016, showcasing the incredibly dynamic tech dystopia in a 17-minute gameplay trailer, but that clip ultimately left us wanting more. One of the main things that stood out to me from the footage was just how deep the side-quests can go; players actually seem to have an affect on the in-game world and its people.
"One of the things we really wanted to do was make your choices and consequences pay off on many levels throughout the game," DeMarle told the PlayStation Blog.
"Sometimes you may not be aware of them but others require you to choose between two specific paths which impact your end game. And how you approach the final mission will depend on all these choices through the game, meaning you'll get a different experience of the ending to someone else."
Everything that I've seen so far about Mankind Divided has caught my undivided attention--the sci-fi action game has this kind of techno-thriller aspect to it, especially as the future is fractured by the Mechanical Apartheid schism. I can't wait to explore the immersive world that Eidos has fleshed out, and we'll actually be able to jump in quite soon, seeing as Mankind Divided launches next month.
Be sure to check out the full interview for more details on Jensen's journey, and remember that Deus Ex: Mankind Divided launches August 23, 2016 on PC, PS4 and Xbox One. Check below for some new screens too!