Vive is used by 66% of VR gamers on Steam, Rift controls just 27%
HTC and Valve are dominating VR on Steam with 66% of users owning a Vive, while 27% are using the Oculus Rift.

Published Mon, Jul 4 2016 12:45 AM CDT
|
Updated Tue, Nov 3 2020 11:59 AM CST
Valve's new Steam survey for June 2016 revealed that 56% of gamers are using an NVIDIA GeForce video card of some kind, while AMD Radeon cards are used by 25% - and it also saw Windows 10 become the most-used OS by Steam gamers, with 40% of gamers using Microsoft's latest and greatest OS.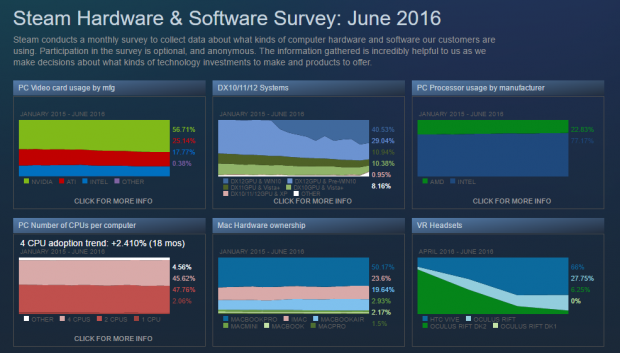 But what about VR? The latest Steam survey has 66% of gamers using the HTC Vive, while just 27.7% of gamers are using the Oculus Rift. The Oculus Rift DK2 headset is still being used, for now at least, by 6.2% of gamers - but these numbers are dropping every week.
Personally, I own both the HTC Vive and Oculus Rift and would always recommend people to buy the HTC Vive. It's a better VR experience thanks to the room scale technology, while the Rift is a seated only experience - for now at least, and even with the upcoming Touch controllers, you'll just be standing around with the Touch controllers, not walking around the room enjoying the VR experience.
Related Tags