I'll be honest. With a flurry of meetings to attend during E3 and free time nonexistent, I wasn't initially excited about seeing Astro's updated A50 wireless headphones. Don't misunderstand me, I'm a fan. I've used the crap out of my 1st generation pair for gaming, Rock Band, and VR sessions. But when I hear "updated," I envision a few new bullet points to put on the retail box for marketing purposes, just barely justifying a new version. This is thankfully not the case with the new Astro A50s.
I went hands-on and ears-on with an Astro engineer during E3, and walked away super impressed. My only criticism? Astro probably should have stamped these with a brand new model number because they're a substantial improvement over not just the originals, but even the most recent iterations.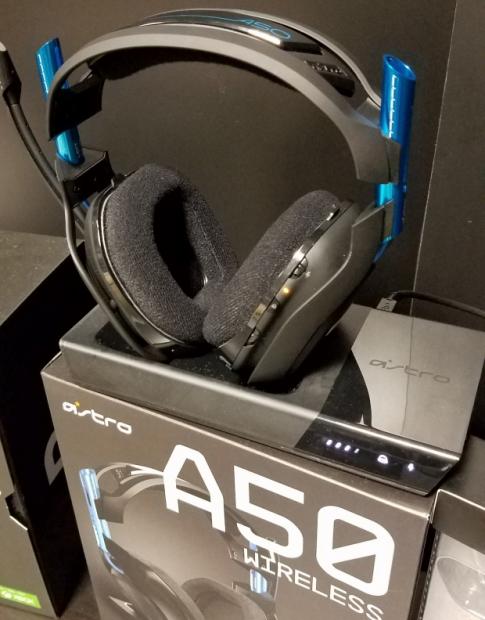 The staples are still here: Dolby 7.1, superior sound, 5GHz wireless, and compatibility with PC, PS4, and Xbox One. And they're still one of the most comfortable gaming headsets I've ever put on my head.
By far the most welcome improvement is an entirely new piece of hardware: A sleek base station that serves as a wireless charging dock and battery status indicator. Need to charge up? Just drop it on the dock - no plugging it in, no looking for a cable -- it locks into place via magnets and charges with power contacts. Don't worry, there's still a micro-USB port for charging while you play.
For Windows users, no more drivers are needed, and the A50s auto-pair with the base station.
An accelerometer in the A50 units now detect when they're placed on your head and powers on automatically, or powers off when it's removed. I saw this in action and it only took a few seconds. No fumbling around for that power button...oh, which has also morphed into slider instead of a button, with better placement.
If you enjoyed the Mod Kit functionality of the A40s, (launching later this summer) you'll be happy to hear the A50s now support the same customizations, meaning you can snap in custom headbands, or swap out the traditional foam earcups for faux-leather ones. These each come with advantages. Because of the updated design and removable headband, they're much more durable. I could wrench the crap out of the A50s on display without breaking them (I was invited to try!). Second, the faux-leather ear cushions ramp up the noise isolation, so less sound leakage means a significant increase in decibels. These are perfect for tournaments, long flights, or just noisy environments.
During our meeting, Astro acknowledged the (fair) criticism leveled at them over the A50's microphone quality, telling me that outgoing sound is just as important to them now as incoming sound. There wasn't time to jump into gameplay and test that claim, though, so we'll save that for our upcoming review. Oh, and sidetone volume is now adjustable via the Astro Command Center software, now available for new A50 owners.
Finally, Xbox One users will be thrilled to hear that a chat cable is no longer required, meaning the A50s can be used truly untethered. However, here's a note on console compatibility from Astro:
"Xbox One A50 (Green) uses different hardware for voice chat over USB than the PS4 A50 (Blue) to eliminate the need for a controller cable on the Xbox One. Due to the hardware difference, this means the Xbox One A50 is not compatible with voice chat on the PS4 console. Likewise the PS4 A50 is not compatible with voice chat on the Xbox One."
This isn't even an exhaustive list, but merely the features I discussed during our E3 appointment. To say I'm excited about these would be an understatement. None of these improvements nor the addition of a base station will add to the established $299 price, and I honestly think Astro would have trouble crossing that $300 barrier anyway. Still, there are now more premium features to match that premium price, and I appreciate Astro going the distance with this new generation of A50s.