E3 2016 - Microsoft's new Xbox One S is a fully-fledged console refresh with an extra hardware kick to improve in-game frame rates. And it actually plays Gears of War 4 better than original Xbox Ones.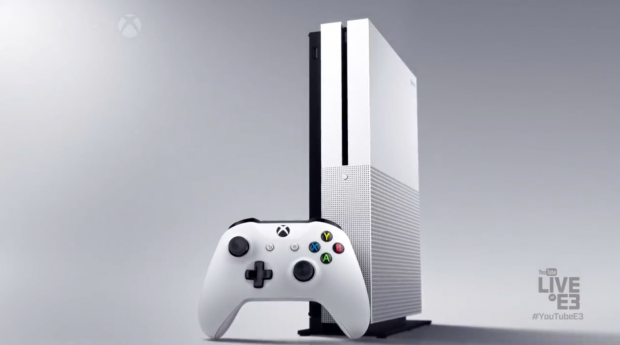 The Xbox One S is not only 40% smaller than current Xbox One consoles, but it will actually play games better than its predecessor. The latest Xbox One S sports a tweaked GPU and CPU that's combined on a new semi-custom SoC from AMD, unlocking some pretty important performance jumps for the system. The Xbox One has had a problem with the age-old frame-rate vs resolution debacle, and games like Halo 5 and DOOM have had to stick with dynamic resolution in order to match inconsistent, sub-60FPS frame rates. The Xbox One S, on the other hand, will reduce those annoying frame rate drops during intense in-game sequences and smooth out one of the most daunting shortcomings of the Xbox One.
Rod Fergusson, who's creating Gears of War 4 with The Coalition, told Polygon that the Xbox One S will "provide a more consistent level of technical performance" thanks to the console's "additional raw GPU and CPU power."
Fergusson also said that The Coalition has been able to "take advantage of the hardware boost to reduce the frequency of frame rate or resolution penalties in more demanding sections of the game."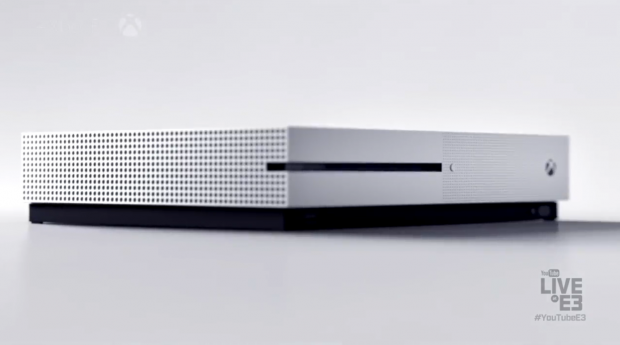 So there you have it: the Xbox One S opens up the doors for better gameplay, and Gears of War 4 will have more fluid FPS and reduce those awful resolution drops during chaotic moments. We don't know how significant the Xbox Mini's hardware boost is, and we'll likely have to wait until August to find out.
Alongside the Xbox One S reveal, Microsoft also confirmed its new ultra-powerful mid-cycle Project Scorpio console upgrade that supports 4K gaming and VR. Slated for a release in Holiday 2017, Redmond touted the Scorpio sports the "most powerful GPU that's ever been put into a console," with 6TFLOPs of performance and an 8-core CPU. Given the clues so far we're betting the new Project Scorpio is based on a SoC with AMD's 14nm Polaris GPU and Zen CPU in a scaled form-factor.
The Xbox One S starts at $299 and launches this August with 4K UHD video playback, HDR support, 40% smaller size, internal power supply, and HDMI pass-through. It doesn't sport a Kinect port, and an adapter will be sold separately. Check below for pricing and pre-order details.