ESA's official E3 2016 website lists a "Xbox One VR" category, further hinting that Xbox will leverage the Oculus Rift to face-off against Sony's PlayStation VR.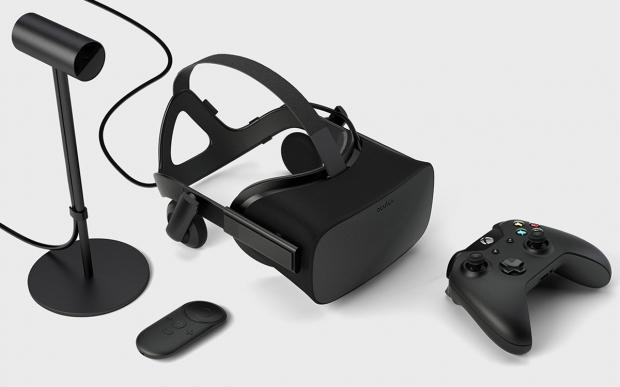 Earlier today we reported that the Oculus Rift headset may be supported on Microsoft's new upgraded 4K-ready Xbox (codenamed Scorpio). Anonymous devs confirmed Xbox VR projects to Ars Technica, adding further evidence to Kotaku's previous leaks. Now the official E3 site seems to corroborate those claims.
The E3 site lists four companies under the "Xbox One virtual reality" section, all of which are non-coincidentally working on VR games. The list includes Rebellion (Battlezone), Maximum Games (Loading Human), 3DRudder, who designed a feet-based VR controller, and Readily Studio, a Chinese outsourcing studio who builds VR games. What's more is that Rebellion's Battlezone and Maximum's Loading Human games are all confirmed for the Oculus Rift and PSVR, lumping on even more evidence the Rift could be used on the Xbox Scorpio.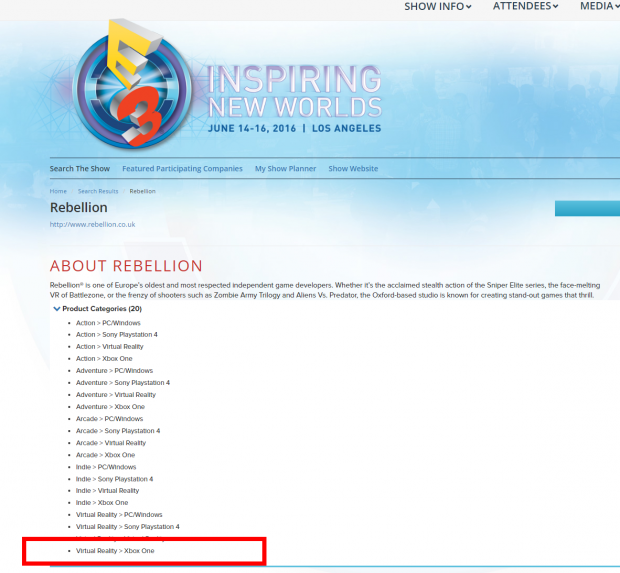 Here are the links for each listing, all of which are listed on "Xbox One > Virtual Reality":
Microsoft teaming up with Oculus makes a lot of sense. With the Hololens not ready for consumers, Redmond currently doesn't have it's own VR headset to combat Sony's PlayStation VR. The company has also signed a partnership with Oculus to include Xbox One controllers with the HMDs.
But what's in it for Oculus? The Rift would now be accessible on two major gaming platforms, consoles and PC. Accessibility is one of the major roadblocks for VR, and more consumers own consoles than PCs, so Oculus would receive much more exposure. Consumers might also be able to trade off between VR games on PC and Xbox, adding flexibility and allowing users to swap back and forth between the two mediums.
The Rift would be compatible on both Xbox Scorpio (Microsoft's new 4K Xbox slated for 2017) and Windows 10 PCs. Consumers would get access to two VR headset platforms for the price of one, whereas Sony's PlayStation VR is locked to PlayStation consoles.
What's more is Microsoft could co-opt more than a few PSVR games that are also being developed on Oculus Rift, adding even more direct competition.
Another huge benefit is from a dev's perspective. Thanks to Microsoft's new Universal Windows Platform pipeline VR developers would likely only have to make a single version of their game that's compatible with Xbox and PC.
This cross-platform VR accessibility also fits perfectly in with Microsoft's new unified console-and-PC gaming ecosystem, and we could even see Oculus merge some of its games to the Windows Store.
Microsoft is expected to announce the 4K Xbox Scorpio at E3 2016, along with the Xbox One Mini console variant and two new Xbox streaming devices--a Chromecast media streaming stick and a Shield TV-like box that supports Xbox and Windows 10 PC game streaming.
Just a quick note on particulars--although the listings mention "Xbox One virtual reality," there's no way the current Xbox One console could support the Oculus Rift. The new Xbox One Scorpio is rumored to be four times as powerful as current Xbox One systems, with the requisite powerful higher-end hardware needed for VR. We could even see the Scorpio outfitted with dedicated video cards or AMD's new GPU enclosure.