Curious on what Ghost Recon Wildlands has to offer? We've wrangled up a ton of content to give you a better idea of the Ghost Recon meets Far Cry adventure, including screenshots, gameplay trailers, descriptions, pre-order info and more.
Ghost Recon Wildlands takes place in Bolivia, with the Ghost operatives tasked with overthrowing the brutal Santa Blanca drug cartel. The game features a wide variety of open-world environments and terrain, from arid mesas to dense jungles and frosty mountains. Each environment offers unique tactical advantages--players can sneak behind the jungle's foliage, for example--and dynamic weather conditions will directly affect in-game combat.
No open-world shooter is complete without vehicles. Wildlands will have a nice array of attack vehicles for players, including helicopters, APCs, buggies, and Humvees with gatling guns. "Obviously, getting around a country with varied terrain requires the right kind of vehicles, and if the trailer is any indication, the Ghosts have no shortage of options for transportation. Buggies (with one member of the squad manning the Gatling gun), dirt bikes, and helicopters are all prevalent in the trailer, but there are some brief shots of Humvees, trucks, an APC, and even a patrol boat."
Wildlands will also support drop-in drop-out co-op play across PC, PS4 and Xbox One. Ubisoft hasn't exactly explained how co-op will work, but I'm thinking it'll be like Dying Light or Borderlands, with easy drop-in lobbies. "Play with your friends anytime, anywhere. Recruit some backup or join another Ghost's game and you'll maintain all your missions and character progression."
A season pass has been confirmed, and Ubisoft says "two major expansions" will be included in the pass. No extra content has been announced or confirmed at this point.
Ubisoft has yet to reveal a release date for Ghost Recon Wildlands, but that hasn't stopped the publisher from opening up pre-orders for three different editions. See below for more details.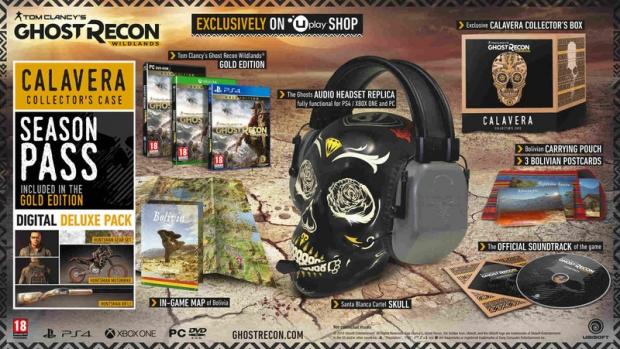 Calavera Collector's Case Edition - uPlay Shop exclusive
Includes all the equipment needed to operate as a Ghost deep inside the Bolivian wildlands to take down the vicious Santa Blanca cartel. This includes the Gold Edition alongside the Ghost's Audio Headset replica, a fully functional headset for PlayStation 4, Xbox One and PC. Last but not least, the Collector's Case also contains a Santa Blanca Cartel Skull, an in-game map of Bolivia, the original soundtrack of the game, a Bolivian carrying pouch, and 3 postcards of Bolivia.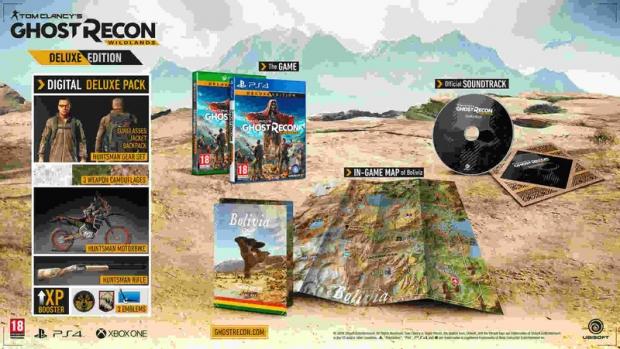 Deluxe Edition
Contains the Standard Edition and the digital Deluxe Pack, which includes: the Huntsman rifle and motorbike, 3 emblems, 3 weapon camos, 3 character customisation items, and an XP booster. The physical version of The Deluxe Edition will also include 2 extra physical items: an in-game map of Bolivia and the original soundtrack of the game.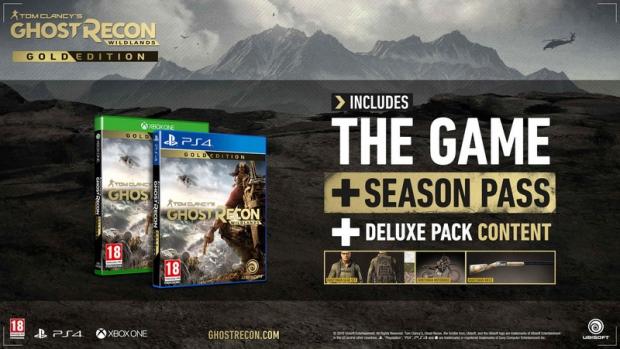 Ghost Recon Wildlands Gold Edition
Includes the Season Pass, giving players access to two major expansions, as well as exclusive digital content such as equipment packs, an exclusive vehicle, epic weapons, and the digital Deluxe Pack.
To get a better idea of Bolivia's environs, Ubisoft has put out three new trailers that get up close and personal with three of the game's six varying regions. The videos below showcase the jungles, salt flats, and canyons. Also be sure to check the huge screenshot gallery at the end of the article for more visuals.
Check below for the game's official description:
"Bolivia, a few years from now: this beautiful South American country has become the largest cocaine producer in the world. The influential and vicious Santa Blanca drug cartel has turned the country into a narco-state, leading to lawlessness, fear, injustice, and violence. The cartel is on track to becoming a major underworld power and global threat.
"An all-out war is not the answer. A surgical, stealthy, lethal approach is the only way to stop the disease at its source. The Ghosts, an elite US Special Forces team, are sent behind enemy lines to wreak havoc, destabilize, and eventually break the alliance between the cartel and the corrupted government.
"Facing an almighty enemy in a massive and hostile environment, the Ghosts will need to make critical moral choices and engage in tough battles to complete their mission - their grittiest and most dangerous operation to date."