GDC 2016 - During the Game Developers Conference, Microsoft's Principal Group Program Manager, Jason Ronald, held a programming session talking about the future of game development on Windows. In this session, Ronald talked about what Microsoft is doing to push their vision on game development, on both the Xbox, and Windows.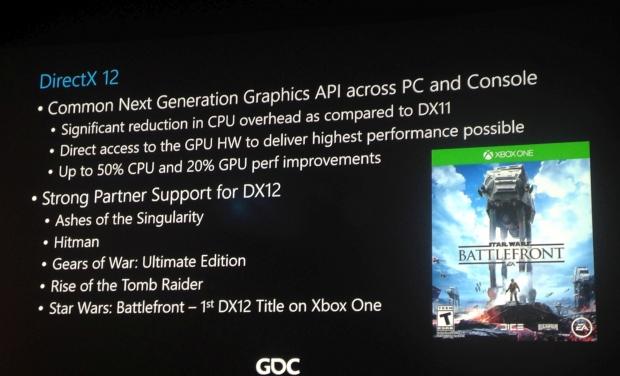 Ronald also provided an overview of a "host of new platform innovations for games in every genre". DualShockers sat in on the session, noticing some great news on DX12, with Ronald talking about how DX12 will offer gains in both CPUs and GPUs.
Ronald mentioned that Star Wars: Battlefront will be the first DX12 title on the Xbox One, but didn't provide any release window on when this would happen. He did note that Microsoft has strong partner support in DX12 thanks to recent releases like Rise of the Tomb Raider, Gears of War: Ultimate Edition, Hitman and Ashes of the Singularity.