We all want to be able to game on our laptops, even if we don't necessarily admit it readily. Wouldn't it be nice to be able to fire up one of our favorite games for a quick spin when we're bored in a hotel room. It's possible, and gaming laptops exist that are both powerful and also not that massive, but they too are still limited in their abilities. And mobile GPU's aren't exactly the most powerful chips even if they can provide a good framerate. You can upgrade them, but an MXM module is far more expensive than a typical GPU. It's a problem that really wasn't being asked, but the solution to that might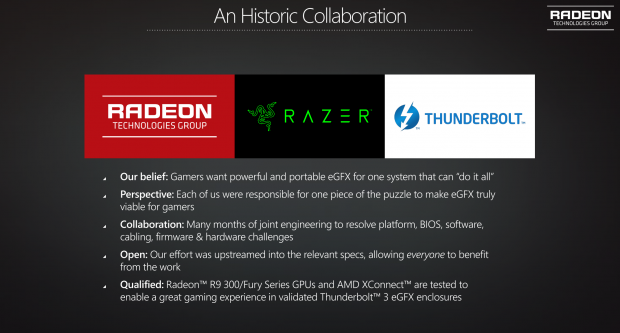 AMD is introducing their XConnect technology that allows any laptop with Thunderbolt 3 to be able to have a discrete GPU connected to it. And there's a huge market for thin and light laptops out there because they're far more convenient to lug around. External graphics is actually a sound idea, too. When traveling, the external enclosure can be completely separate and safely ensconced in another piece of luggage completely, setup only when you're at your destination or when you really absolutely must have that extra GPU power, and AMD is the first to bring you this power. Plug-and-play GPU's are finally here, and they don't require a reboot anymore.
And they've done this by partnering with Razer and Thunderbolt in order to do this. Their innovations in allowing for graphics information to be passed via this interface isn't a closed-source method, either. They're staying true to their GPUOpen initiative and pushing their innovations out to be available to everyone. That means that yes, NVIDIA, can make use of their plug and play GPU technology.
It makes use of the Thunderbolt 3 standard which has a 40Gbs throughput that's more than enough to handle most graphical loads. But more than that, it can potentially give even the thinnest notebook a boost in performance that's enough to allow you to play at the now increasing resolution of most ultrabook class devices.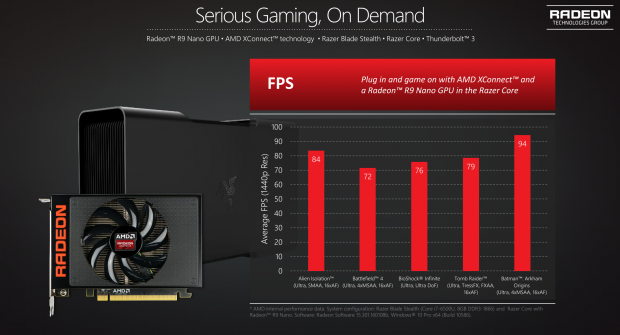 In order to use the new external GFX capabilities that are now native to Windows 10, you'll have to have a system that meets the following requirements first.
Radeon Software 16.2.2 (or later) installed

1x Thunderbolt™ 3 port

40Gbps Thunderbolt™ 3 cable

Thunderbolt™ firmware (NVM) v.16

Windows® 10 Build 10586 (or later)

BIOS ACPI extensions for external GPUs (check with vendor)
And then you'll have to use a GPU that's supported, which includes the 300 series and the Fury series of cards. Currently there's only one enclosure that can make use of this, made by Razer and used for their Razer Blade Stealth laptop, but potentially it can be purchased separately and used on any laptop that meets the above requirements.
There are many instances where this could even be incredibly useful for more than just gaming. Think about professional GPU-accelerated applications that can offload a significant workload to the GPU. Even rendering videos in a hotel room after covering an event can be a much speedier process with a proper GPU attached.
And looking to the future, using Thunderbolt 3 interfaces, which operate on a PCIe 3.0 X8 bus, could be an idea to separate the incredibly high heat producing GPU from the rest of the case. Much in the way that Razer's own Project Christine used an external PCIe bus to plug in different components, we could see smaller PC's with the ability to simply plug in power we need, when we need it. This is similar to the idea already being pioneered by Lenovo and Acer with their stackable, modular PC's.