SK Hynix hits mass production of 4GB HBM2 in Q3, 8GB HBM2 in Q4 2016
8GB HBM2 dies enter mass production in Q4 2016, with 4GB HBM2 dies kicking off in Q3 2016.

Published Mon, Mar 7 2016 9:09 PM CST
|
Updated Tue, Nov 3 2020 12:00 PM CST
Both sides of the video cards war will be using HBM2 (High Bandwidth Memory) with the new super-fast HBM2 going into mass production later this year, kicking off with 4GB HBM2 dies in Q3 2016, followed up by 8GB HBM2 dies in Q4, reports Golem.de.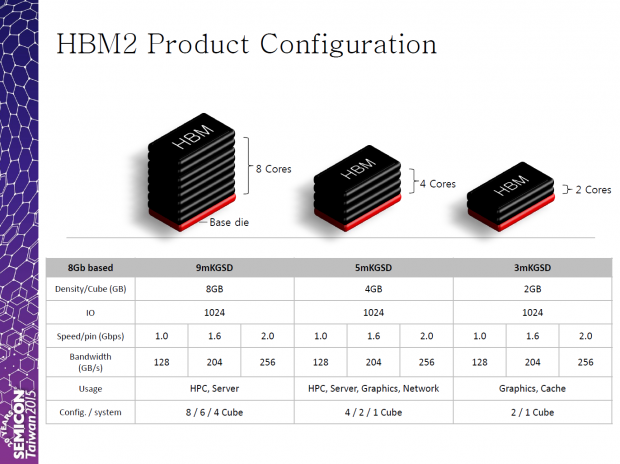 With AMD expected to unveil its new Polaris architecture in more detail at GDC next week, and NVIDIA following up with its reveal of Pascal at its own GPU Technology Conference in early April, the GPU scene is heating up. SK Hynix setting off its 4GB HBM2 die mass production in Q3 2016 signifies when the next-gen GPUs will launch, where I think we'll see a launch in June/July and availability in the months proceeding their launch.
The professional-orientated next-gen cards will require the 8GB HBM2 dies to get things kicked off in a higher fashion, as that's when we'll see 32GB of HBM2 on a video card - and by just typing that, there's feelings in my body that I've never felt before. 32GB of HBM2? Freakin' incredible, isn't it? We will be at both GDC and GTC, so expect some quick and plentiful coverage from both events in the coming weeks.
Related Tags